Agriculture Cooperation
Israeli Expertise to Boost Pomegranate Yield
Boosting India's pomegranate yield with Israeli expertise offered by the Center of Excellence for Fruits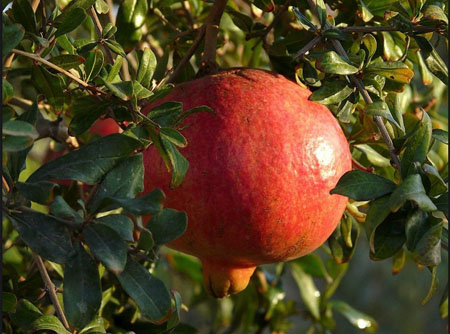 after the green revolution through which india has achieved its food sufficiency, it is looking for another revolution to shift to diversification of the food basket and sustainable agriculture.
one of the 20 indo-israeli agriculture projects in the country assisting india achieve this goal is the center of excellence for fruits at mangeana in sirsa. israel's advantage over india is in its use of agricultural technology, horticulture, and as a result, it is way ahead in productivity.
an israeli expert from the ministry of agriculture representative, itzhak kosto, held a two-day 'pomegranate seminar' at this center to inform farmers and scientists on fertigation – providing fertilizers to plants by adding it to drip irrigation – post-harvest practices, pest and disease management, and nursery knowhow.
itzhak kosto told farmers that israeli farmers produce 35 metric ton (mt) pomegranate per hectare, compared to 20-25 mt in india. nearly 60,000 mt of the fruit is cultivated in israel and it exports nearly half of it, making it one of the world's largest exporters.
india is the biggest producer of pomegranates in the world, growing one-third of the world's production. however, it merely exports 3 percent of the fruit. this is mainly due to a much larger domestic market than the israeli one and to a certain degree due to better quality of pomegranates grown in israel.

maharashtra is the country's biggest producer of pomegranate, which accounts for 80 percent of india's yield. scientists and farmers from all over india, including rajasthan, maharashtra, punjab, haryana, karnataka, sirsa participated in this seminar.
via the embassy of israel in india, published on august 28, 2014. click here for the original article.