Agriculture Cooperation
Israel-Vietnam Increasing Agricultural Collaboration
Vietnamese agriculture officials say that cooperation with Israel is strong and on the rise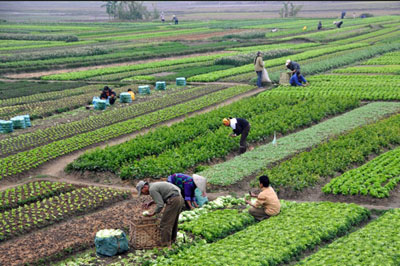 tran kim long, director-general of the vietnamese agriculture and rural development ministry's international cooperation department, at his office in hanoi. (photo credit: sharon udasin). source: the jerusalem post
farming management and israeli technological expertise, coupled with a vietnamese desire to improve the quality of a vast agricultural land, provide an ideal basis for increasingly strong cooperation between the two countries, a senior vietnamese official told the jerusalem post.
tran kim long, director-general of the vietnamese agriculture and rural development ministry's international cooperation department said "cooperation has been enforced and strengthened year-by-year especially after high-level visits of agriculture ministers, including our minister [to israel] in 2012 and recently the visit of your minister, yair shamir [to vietnam]".
he added that today, there are more than 2,000 vietnamese students studying agriculture in israel, particularly in the arava. meanwhile, more than 50 training courses have been conducted by israeli farming experts visiting vietnam, from which about 3,000 students have benefited, long continued. in addition, a dairy demonstration farm near ho chi minh city, run by the israeli foreign ministry's mashav agency for international development cooperation, provides local dairy farmers with access to modern milking equipment and know-how.
"this farming model has become a good farming model, not only for vietnamese farmers but for the region," long said.
in 2012, when vietnamese agriculture and rural development minister cao duc phat visited israel, the two countries signed an export-import agreement regarding animal products. they are expected to do the same with plant varieties shortly, according to long.
during shamir's visit to vietnam – in november 2013 – he and his counterparts announced their intention to develop a joint agricultural research and development fund between the two countries.
"there are some very good conditions for cooperation in the agricultural sector in the future," long said.
future collaboration in the agricultural sector between the two countries would likely continue to focus on transferring technology and know-how, the director-general explained.
via the jerusalem post, published on november 30, 2014. click here for the original article.