Agriculture Cooperation
Israel-Kenya Collaboration to Fight Desertification
Israeli NGOs harness their expert knowledge to assist African nations fight desertification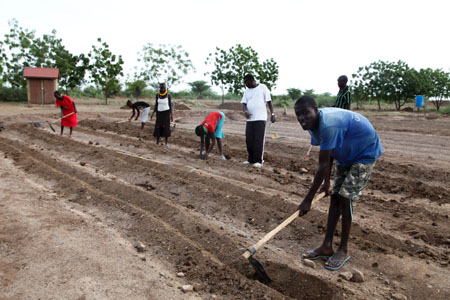 kkl-jnf collaborates with ngos, brit olam, the arava institute, and the saint paul missionary from spain in a new program called furrows in the desert. the program intends to promote the development of agricultural plots in the area of turkana, kenya's poorest region. this region in northern
kenya suffers from a shortage of food and is socially fragile.
the un highlights the need for the provision of assistance to these areas, as weak and poor since they are vulnerable and exposed to the takeover of extremist political groups that continue to destabilize their life. kkl-jnf will bring to the project all of its professional knowledge in the environment, water, and combating desertification, to create sustainability.
the ngo will provide professional support and funding of about 50 thousand dollars a year during three years. in the first phase of the project, kkl-jnf will create solar pumps by which water will gravitate to fields and palm groves in arid regions. this will enable residents to secure their food supply, provide them economic independence, and minimize dependency on aid from organizations. the goal is to establish approximately 360 farms that will turn the tide on a regional level.
aside from the funding and professional escorting of the project, in the second phase of the project, kkl-jnf will accompany professional volunteers which will share their knowledge of continues and sustainable food supply.