Seed Technology
Improving Millions of African Lives through Supporting and Developing Agriculture
vegetable seed company hazera's mission is to contribute to the supply of high quality vegetables worldwide.
hazera has therefore elected to support agricultural development in africa by providing high quality seeds and expertise to help people raise their living standards.
in ethiopia a development project that began with one village has spread to thirteen others.
a roseland foundation project in holeta is developing the community through education and agriculture.
hazera is currently training farmers all over africa and introducing vegetable varieties that can bring healthy profits to african farms.
hazera's ethiopian villages project and its local distributor, green life have undertaken the task of making ethiopian farmers more professional.
the project started at gedenser in the east. its agricultural potential indicated a long-term investment, requiring the villagers to commit themselves to making a living from agriculture through study and work.
hazera contributed seeds for three basic crops: onions, tomatoes and peppers. hazera taught the families to use organic manure and provided equipment and supplies. a year later the villagers were living off their produce. top agricultural ministry officials have taken note and the project has expanded to thirteen additional villages.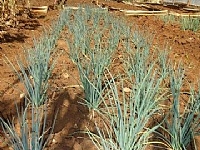 the roseland academy, originally a school in holeta, near addis ababa, now seeks to improve living standards by developing vegetable cultivation. the children and their mothers prepare healthy meals from crops. production currently exceeds needs and the surplus tomatoes, cauliflowers, onions, cucumbers and peppers are sold locally, generating income that is re-invested in new projects.
jawadat badawieh, hazera's african markets' manager says: "hazera also provides farmer training in tanzania, angola, uganda, zimbabwe, zambia, rwanda as well as sierra leone, ivory coast, burkina faso and senegal, where we attended the congress of the african seed trade association in early march 2017.
"expertise and good practices are in great demand. hazera can offer these. our selected vegetable varieties and genetics thrive in africa. hazera seeks cooperation with governments, ngos and unions to enhance agricultural development and yields. our dream is to recreate our successful ethiopian projects elsewhere, with uganda and, perhaps rwanda presenting opportunities. it would be a privilege to recreate these successes elsewhere and, more importantly, it would benefit the farmers."
in ethiopia hazera has also launched vegetable seed production as another means of introducing professional knowledge into this promising continent, promise that is clear to hazera's mother company limagrain, which has considerably strengthened its presence in africa through its subsidiaries and recent acquisitions such as link seed (south africa) and seed co (several countries).
as hazera's ceo rami dar stated: "hazera aims to help feed the world's growing population and develop agriculture worldwide. by supporting and developing agriculture in africa we can help millions of people to improve their living conditions".