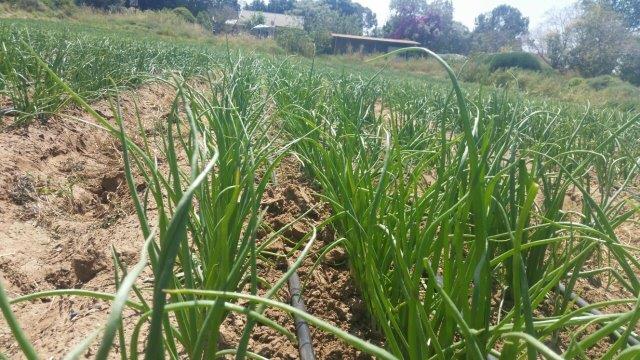 Seed Technology
Make a good living from Organic Farming – With the OriGene Seeds™ support services
Interview with Nissim Galam – Organi Grower- Moshav 'Sde Itzhak'
we met nissim at arava agricultural open day in early february 2017.
nissim has been growing organic vegetables for the past nine years and is in a constant state of expansion. he started out with 3 ha and currently farms about 20 ha.

nissim diversifies his summer and winter crops so as to maintain a perennial market presence. his summer crops include watermelons, melons, eggplants, zucchini , onions and corn, and in the winter he grows cabbages, kohlrabi, fennel and cauliflower.
nissim says that organic farming precludes the use of chemical substances and that fertilisers must be vegetation based and pesticides must be soap based. the supermarket chains test all produce for traces of pesticides.
nissim farms exclusively for the local market. he has been working with origene seeds™ for nine years, particularly with their cucurbitaceous: watermelons, pumpkins , squash and zucchini .
for seedless watermelon –it is mostly maxima™, which he says is a leading variety to which the market is accustomed, although he also grows other watermelon seedless varieties from origene seeds™ as , such as talca and savannah.
nissim is full of praise for origene seeds™ melons varieties , particularly for the leshem (305) variety, an annanas type melon with orange type , relatively early crop and suprioir above all the others for texture, taste.
nissim, who buys seeds from several companies, by no means claims to be a large scale farmer but says that beyond its high quality vegetable seeds varieties, origene seeds™ excels in its "after sales" services and professional guidance – 'it is their outstanding feature; it is what makes them great'.
'their attitude to me has nothing to do with the size of my farm.'

with the rise in standards of living and the increased awareness of pesticide free produce, the demand for organic vegetables has also risen and is expected to increase even further in the future. as an organic farmer, nissim obtains good prices for his produce even from the supermarket chains. he therefore aspires to carry on with farming that is made a little easier with the after sales' services and professional support he receives from origene seeds™.