Seed Technology
New World Trends in Fresh Produce Marketing
Hazera maintains continuous contact with customers throughout the supply chain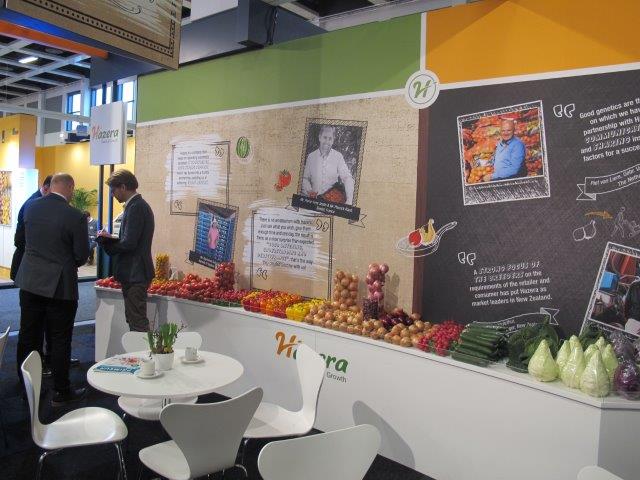 during the 'fruit logistica' exhibition, known as the biggest fresh produce trade fair, being held for the 25th year running in berlin, we were privileged to meet with ger van burik, the exhibition coordinator for the holland hall.
ger is responsible for the dutch hall at every exhibition the organization participates in, outside of holland, held over recent years in madrid, hong kong, america and london. according to him the f.l. berlin is the largest of all. there are about 350 members in the "holland fresh group", coming from every link of the chain from growers to distributors . each member is entitled to take part in the dutch hall coordinated by hfg.
in the light of his 35 years of experience in coordinating fresh produce exhibitions, we asked ger about new trends.
ger explained that while at one time people specialized in one area (there were separate growers, importers, exporters, distributers) today everyone wants to be involved in the complete process.
interestingly, as distributors want to keep their place in the market they aim to supply produce throughout the year, and therefore source thei produce from around the world.
this trend was demonstrated in hazera's pavilion, exhibiting for the second year in the dutch hall, and visited by growers and fresh supply chain professionals from all round the world.

we met with yael rozenfeld, global marcom manager of hazera, who explained that the theme behind hazera's booth is " partnerships".

these great partnerships were communicated through messages & pictures of hazera's partners. yael added "full partnership in all aspects of the company's activities isn't just an exhibition theme ,it's our company's policy"!

in line with current trends, hazera maintains continuous contact with customers throughout the supply chain (including growers, marketers and distributers) meeting their needs, including year round supplies.


when the short storage capacity prevented long distance transport of onions, hazera's research and development team produced long-storage and very firm varieties such as tilbury and rhinestone, enabeling year round distribution throughout the world.this is only one example out of many.

hazera's success as a world leading seed-company comes in part from listening to the changing needs of customers throughout the supply chains, allowing the company to adapt to market demands by developing new varieties with the characteristics which match these needs.