Seed Technology
New Table Sugar Variety – Higher Yields for Farmers, Better Value for the Consumer
The same characteristics in a larger version Weighing up to 1 Kg
Hananel Ben Kalifa – Arava and Southern Israel agronomist, Origene Seeds TM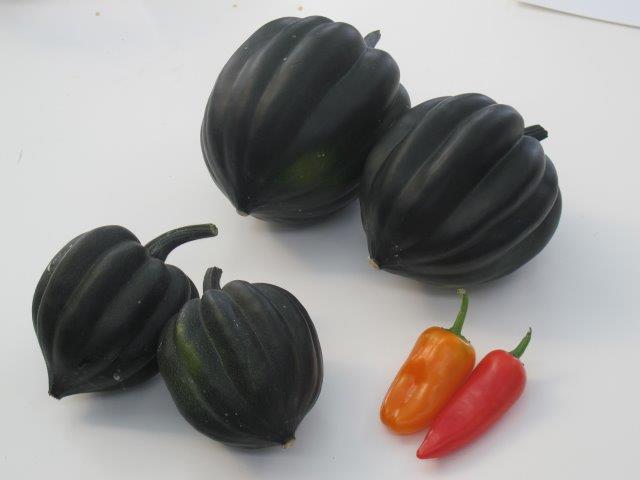 the "table sugar" variety of acorn squash, distinguished by its sweet roasted chestnut flavor, was first introduced into the israeli market by origene seeds tm about 10 years ago, after an extensive marketing endeavor involving popular tv chef programs and restaurants. this new sweet israeli variety is known locally as chestnut pumpkin tm.

according to hananel, the product was previously completely unknown in the israeli market. extensive groundwork creating a product image and informing consumers how it could be used was needed in order to raise demand. about five years ago shops and restaurants started ordering the product, which their customers now recognized. leading chefs also began including chestnut squash tm into their signature dishes in their restaurants.
the combination of high nutritional values, the delicate taste and unique texture has turned the origene seeds tm table sugar into a real contender in the market place.
however, origene seeds, never complacent in their search for innovation, have introduced a new product this year: the same characteristics in a larger version, with each one weighing between 600 g. to 1kg.
this innovation brings dual benefits: the consumer gets a product with a higher weight, enabling diversity in the kitchen, and the grower may achieve higher yields, with the possibility of several harvests per season.
another, very significant advantage of the newer table sugar varieties is their longer shelf lives.
varieties of similar fruits sold in packaged slices have very short shelf lives. by comparison, when the consumer buys the origene seeds tm table sugar they get a unique, conveniently sized product which can be stored whole for up to two months and then used to make a dish for the whole family.

the table sugar developed by origene seeds tm can be grown during the autumn and winter seasons in the arava and in the spring and summer throughout the rest of the country.