Plant Propagation
Hishtil MX Grafted Vegetable Seedlings
Hishtil built a nursery for the production and supply of grafted vegetables in Mexico
An interview with Moti Dagan, Business Development & Projects Manager
early this year, hishtil – a world – leading producer of vegetable seedlings, joined forces with four large growers and built a nursery for the production of grafted vegetables seedlings in the state of jalisco, mexico.
the nursery mainly grows premium grafted tomato, watermelon, and capsicum. "our customers are leading vegetable growers who grow the produce mainly for export to north america and are required to comply with the quality requirements for this market.
dagan tells us about innovations hishtil's r&d introduced to the production process of grafted vegetable seedlings: "it is a new splitting technique for grafted tomato seedlings that balances the two split branches. this technique expedites the first yield, which means it also increases the amounts of vegetables picked during the initial cropping stages". which comply with hishtil's strategy "to improve yield and to increase our customer results".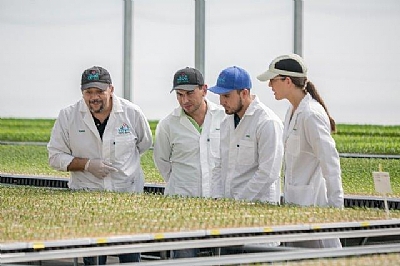 dagan explains that the seeds are purchased from leading international seed companies. the quality of the seeds is crucial. it determines not only the fruits characteristics and resistance to diseases, pests, and pathogens but also the plants' quality throughout the growth process.
"the nursery in mexico joins the international activities of hishtil" says dagan, and explains: "after only five months, we have already witnessed a growing demand for quality plants from local growers. the nursery currently spans over 2 hectares, but the goal is a 20-hectare nursery in total."
according to dagan, mexico is new territory for hishtil, activities. "with hishtil's entry to the mexican market, "we completed our plan to operate sixteen nurseries across four continents. in 2019 hishtil's production will exceed 100 million grafted seedlings, and go beyond a billion plants in all."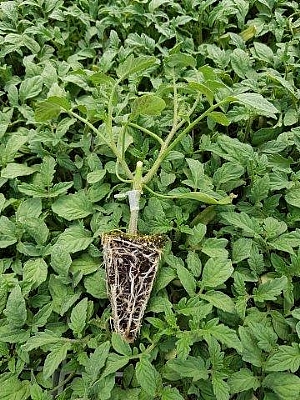 "being a world leading producer of vegetable and herbs seedlings," adds dagan, "means that food safety is a prime concern at hishtil. we follow stringent international standards for quality and hygiene in all our sites throughout the production process. for example, we only use disposable trays to prevent any plant material returning to the nursery from the field, visitors are restricted to limited areas of the production process, and are carefully disinfected prior to their entry."
asking dagan about the future, he shares hishtil's plans to expand the assortment of grafted vegetable in mexico to cucumber, aubergine and melon, as well as enter the practice of grafted fruit trees for plantations and vineyards. "this is a new initiative we are currently trying out in israel, but it is expected to reach mexico as well. we understand that the r&d knowledge hishtil has accumulated over the years on grafted seedlings is valuable and can greatly contribute other fields as well, such as fruit trees and vineyards.