Ask any exhibitor at FlowerTrials 2023 what the difference was versus last year, and they will reply ''even more international visitors''. Visitor numbers from key countries outside Europe were indeed higher with visitors registered from no less than 87 different countries. Making and maintaining international contacts remains one of the key advantages for breeders exhibiting at FlowerTrials. While customer visits can be easily made locally, hosting an overseas customer at FlowerTrials, with the opportunity to show and discuss new items in the assortment, is a key benefit.
Similar number of visitors, more visits
The total number of individuals visiting this year's FlowerTrials was just over 5000, almost the same as last year. From the figures we can see that while numbers of international visitors are indeed up, domestic and European visitors are slightly down.
Gill Corless, FlowerTrials Chairman: ''Last year was the first opportunity to meet each other after the 2-year Covid break. European visitors formed the majority, as there were still uncertainties in intercontinental travel. The balance between European and overseas visitors has now realigned. Significantly, almost all of the 29 locations experienced a higher rate of visitor traffic than last year. With a similar number of visitors, this means that the number of visits per individual increased. The increase in international visitors certainly contributed to this, but the enticing locations and the bright and sunny early summer weather undoubtedly helped!"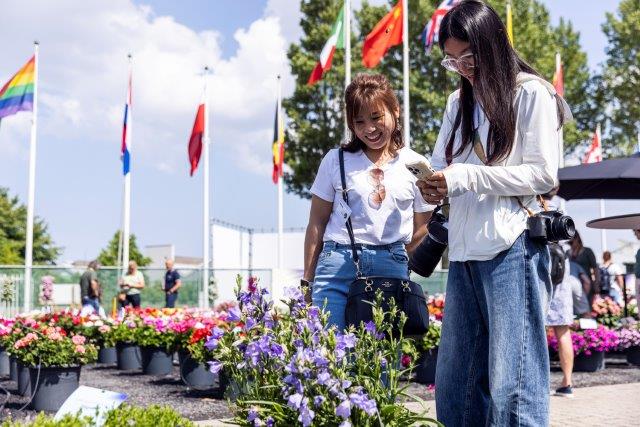 Mood in the Market
FlowerTrials members acknowledge that it has been a difficult season with energy prices high and consumer confidence uncertain. Spring in the main European markets has been wet and cold but with the arrival of the warm spell in May sales have rocketed. This positive news certainly rubbed off on the exhibitors and the visitors, and the mood was one of hope, looking ahead to the challenges and opportunities of next season.
New locations
All new locations were very well visited with the new members experiencing the unique FlowerTrials concept for the first time.
Stephen Page, owner of Walter Blom Plants said: "We had our expectations, but it is safe to say they were surpassed last week. We are extremely satisfied with our first year of being part of the unique FlowerTrials experience."
Videos capture the spirit of FlowerTrials
Once again, the FlowerTrials film crews were out and about, talking to exhibitors and visitors. While short daily video compilations were used daily to whet the appetites of potential visitors, more detailed films are due to follow, giving a detailed impression of the presentations in each region. All films are, or will be available on the FlowerTrials website, which also remains an essential reference point for information on all this year's novelties.
FlowerTrials 2024 – where plants will meet people again
FlowerTrials members are already looking forward to opening their doors again next year in week 24, to meet with all those interested in ornamental horticulture. Mark 11th to 14th June 2024 in your calendar now!