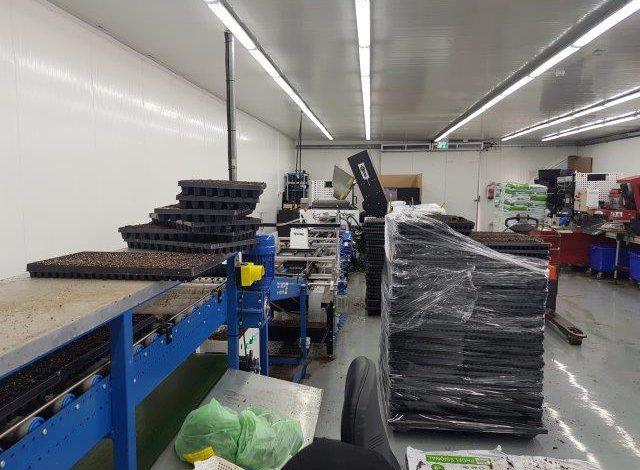 Plant Propagation
Producing Herb Seedlings using advanced technology
Hishtil improves the production process and provides varied herb cuttings of uniform quality worldwide
An interview with Doron Naveh, Afula Nursery Manager, and Eyal Kleinberger, Herbs & Perennials Product Manager at Hishtil
culinary experts worldwide have already become accustomed to using fresh herbs, and in recent years even foodies grow herbs for personal use, on every windowsill and balcony, in planters or in the garden.
hishtil is a major party in this trend, one of the world's largest herb plant producers, which specializes primarily in producing plugs and unrooted cuttings that are marketed to nurseries worldwide. the nurseries care for the plugs in planters, and sell them to retail chains as half-finished plants, mainly throughout europe and the north america.
according to doron naveh, afula nursery is responsible for producing the herb plant plugs: "we grow any plant that can be propagated vegetatively– mint, rosemary, oregano, thyme, sage, basil, and others in hundreds of varieties, different flavors or appearance. multiple plugs provide an advantage in uniformity of the final product, in terms of appearance and variation.
hishtil afula (one out of 4 hishtil nurseries in israel) is in charge for the vegetative production, 95% of the plugs produced for export, 5% intended for the local market. sales of herbs take place to most countries like england, holland, germany, belgium, scandinavian countries ,france, u.s.a, canada, switzerland, italy, poland, hungary, austria, cyprus, russia, slovenia, and even south korea and japan. the produce reaches markets directly from production site at afula nursery via air freight within 72 hours after packing!
production scale increase requires hishtil to continue investing many resources in technological means for improving efficiency, optimizing and upgrading of production processes, for the sake of product quality and employees well-being during production.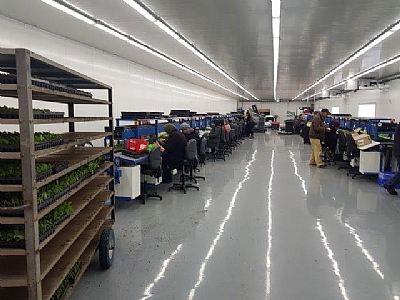 hishtil recently invested in an upgrading of its 'sticking' room at the afula nursery, where the employees stick cuttings into various plug sizes. doron related that in this upgrading process, 3 objectives were defined: to enlarge the room's area to provide greater working space, to make the work process more efficient, and to improve sanitary conditions for improving the plugs quality.
as a result of the new facility, hishtil managed to improve sticking procedure without the need of additional manpower, while making the working process more efficient and a higher product quality. in the upcoming year we have plans to implement a recognition system in order to improve our monitoring abilities throughout the production chain. as noted, the system is built and planned for continuous processing and improving logistics and efficiency at work.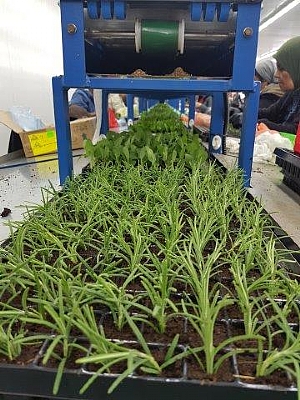 the upgrading process has also enabled technological improvements meant to realize a more professional outcome. for example, by installing new climate control device, hishtil managed to gain better pest control which resulting better and plugs in a higher sanitation conditions.
according to eyal kleinberger, the upgrading production process also making efforts to forecast the future. it is meant to provide the means to permit application of additional materials in the sticking process. for example, treatment against pests, fertilizer additives, and more. all these actions, that were not possible in the previous arrangement, can be implemented uniformly in the future in the new facility.
in recent years hishtil has joined the worldwide trend of organic food, and was the first to bring this tiding to the herb plants market as well. as of today, hishtil has a wide selection of organic herb plants, of the highest variety and quality available in the market.
hishtil hasn't stopped innovating, and in the upcoming months will participate in two central tradeshows in the horticulture and vegetables sector (ipm & fruit logistica, respectively), where it will exhibit new products: a series of cascading herbs varieties, high-stem products – basil and edible pepper, and a series of grafted hot peppers (janana-peppers that bite), in a variety of shapes, colors and flavors. in addition, combinations of various herb varieties will be exhibited, varieties with an asian fragrance, combinations of herbs for tea, as well as an innovative concept of plants with high resistance to dryness – that are suitable for climate changes in recent years.