Water Management
Netafim's Innovative Mushroom Solution Boosts Yield Quality and Profits
Global smart irrigation leader's Mushroom Master lowers energy costs and casing soil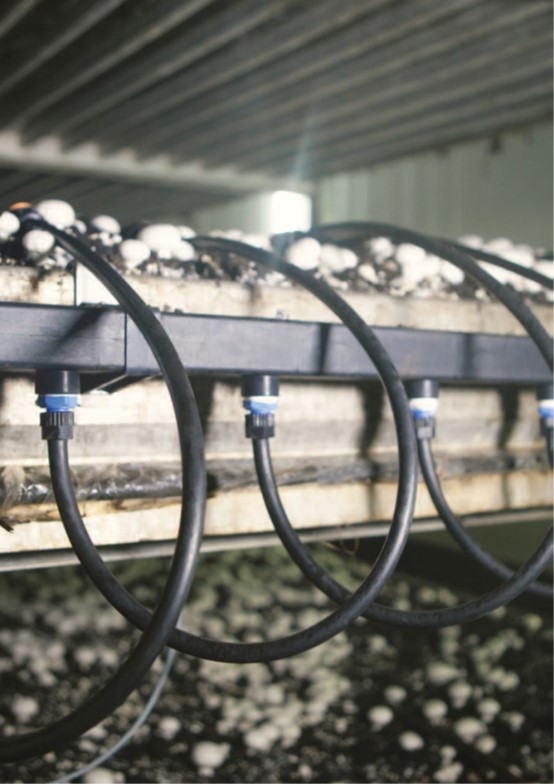 Netafim
, announced today that it will be exhibiting at Mushroom Days 2016, which will take place in Den Bosch, the Netherlands, on June 1-3. One of over 80 companies exhibiting at the 34th International Tradeshow for the Mushroom Industry, Netafim will unveil its advanced solution for mushrooms, Mushroom Master™
. Developed in partnership with the MIGAL-Galilee Research Institute, Champignon Farm at Moshav Zarit, and Bar Agricultural Works, the sustainable solution enables mushroom growers to enhance yield quality with fewer resources to increase profitability.
Comprised of Netafim's low-flow compensated non-leakage (CNL) drippers, a controller and a mechanical deployment system, Mushroom Master enables the release of small, precise amounts of water at quick pulses. By keeping mushroom beds irrigated throughout the entire growing cycle while not getting the crop wet, the unique solution enables the production of A-quality yields in the third flush, overcoming a major limitation of the traditional sprinkler method. Based on research aimed at finding an alternative to sprinkler irrigation, Mushroom Master increases yields by 10%, reduces casing soil usage by up to 30%, lowers water usage, and significantly increases A-quality yields.
Underscoring Netafim's commitment to sustainability, Mushroom Master also lowers energy costs by 20%, reduces the irrigation system's carbon footprint, and enables the recycling of used dripperlines.
"As the global leader in smart irrigation, we are committed to leveraging our agronomic expertise and experience to develop advanced solutions that can create an impact on global agriculture," Dubi Raz, Netafim's Agronomy Director, said. "By introducing a new approach to mushroom irrigation, Mushroom Master is changing the mushroom-growing landscape, enabling growers to increase yield quality significantly."
"Thanks to Netafim's system, we've increased yields by about 30%, and we can grow a plentiful, high-quality third flush," said Eran Kobi of Champignon Farm in Israel.
"We also import less casing soil, which further reduces costs."
In conjunction with Mushroom Days, the 19th International Society for Mushroom Science (ISMS) conference is taking place in Amsterdam on May 29-June 1. Netafim's Dubi Raz and Dr. Ofer Danay, a leading authority on mushroom cultivation from the MIGAL-Galilee Research Institute, are presenting scientific papers on mushroom irrigation via drip as part of the conference's Future Farming section. During the conference, delegates will also have the opportunity to visit van den Berg Mushrooms to see Mushroom Master in action.