Agriculture Investment
Investing in Growing Algae in the Arava
Algatechnologies obtains investment for developing micro-algae materials from a British fund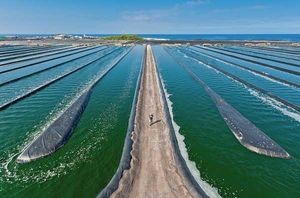 algatechnologies at kibbutz ketura develops micro-algae materials for the cosmetic and pharmaceutical industries.
hagai stadler, algatechnologies' ceo has a vision to see algatech as a farm for growing dozens of microalgae species, each of them applied to a different objective "encouraging metabolism, for example" – and the aravah as the silicon valley of marine agriculture. he believes that israel should focus on niche agricultural fields, not simple ones such as growing vegetables in greenhouses or open fields.
the british investment fund, a concern with global interests, is headed by bradley fried and leon blitz – british jews of south african descent, who are first and foremost business people, and what attracted grovepoint to invest in algatechnologies was its unrealized potential, and the fact that "we found a distinctive technology and we saw that it was already operational," says stadler. this suits the fund's investment policy as they seek companies with the potential to harness israeli initiative toward adding value to the world's shortage of resources, i.e. food and water.
grovepoint do not want just another start-up but sought a company like algatech that could grow globally.
the kibbutz proved to be another advantage in their considerations as its human resources policy and the idea that kibbutz members are "working with us" as stadler commented. this kibbutz atmosphere attracted the new owners, britain's grovepoint investment fund and they wish to maintain it.
stadler noted that it was grovepoint's policy to find a marketable product that is not easy to grow. the world is shifting toward natural materials, made of biological organisms, as compared to synthetic materials made of oil. the world has realized that nature does it better than man".
grovepoint and its investors see their involvement in algatech as a long term investment. algatech was founded 15 years ago by yoram hoffman a member of kibbutz ketura, who identified the potential of algae and convinced the kibbutz to invest.
the main substance extracted from the algae cells using a complex process is astaxanthin or, in short, asta. it is among the best active antioxidants available as explained by chamutal krugliak, the company's chief biologist, who also claimed that asta is a substance, which does not cause damage when consumed in excess and positively affects vision, strengthens the immune system, improves skin texture and protects it against radiation. in addition, being an antioxidant, it serves as an anti-aging agent for all physical systems.
it is important to remember here that there are tens and hundreds of thousands of algae strains and species and each alga is unique in its own right, with qualities of its own.

grovepoint brought the money and the executive capacity, which algatech needed to make the breakthrough that led to a change in its strategic focus, efficiency and control. since investing in algatech, grovepoint has invested tens of millions of shekels in the company and one can cautiously say that so far the investment is fruitful.
via globes, israel's business arena, published on november 13, 2014. click here for the original article.