Cannabis
Innovations for Hydroponic Crops and Cannabis
This is especially an advantage for cannabis growers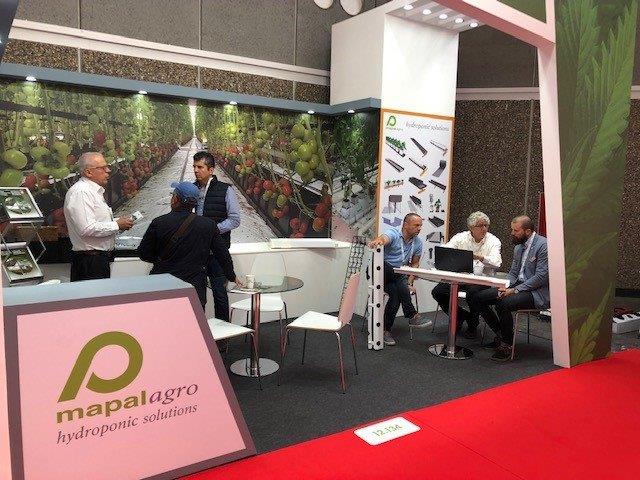 mapalagro, which specializes in development and production of hydroponic system solutions and soil-less cultivation, participated at greentech 2019, in amsterdam from june 11-13.
the company's pavilion attracted considerable attention of clients from all corners of the world, both due to the variety of innovative solutions they offer clients who grow with hydroponics and on detached growing tables, as well as the innovations they offer to cannabis growers.
in addition to the company's familiar solutions, such as growing troughs, grow-bag drainage collection systems, drainage spacers & rain gutters, mapal exhibited a relatively new product at the show, that has already been purchased and proved its greatest advantage: dw – a double wall trough, which directs all the run-off, including surplus water and fertilizer, down to a closed space at the bottom of the trough and from there to drainage, which constitutes a huge advantage since it maintains low humidity in the greenhouse.
this is especially an advantage for cannabis growers, since cannabis plants are known to be very sensitive to humidity.
| | |
| --- | --- |
| | |
rub, mapal's marketing and sales manager, discusses the product's additional technical and operational advantages – the trough is rigid enough to be supported from below or hung up every 2 meters. it's easy to clean and very stable.
some growers place the trough on the ground with a downward pitch, while above it they put the growbag, or for cannabis, growers mostly place buckets with the plants. in this way, the surplus water goes down to the bottom of the trough and causes a significant decrease in the air's humidity level.
rub notes further that the trough has already been purchased by several projects for cannabis cultivation, and the growers are very satisfied. using this trough requires fewer ovens to dry out the crop.
however, it's not just cannabis growers that enjoy the advantages of mapal's double wall trough. rub also talks about the use made by vegetable growers using growbags in various projects around the world.