In recent years, farmers have been transitioning into growing fresh produce in closed, controlled environments, heavily reducing their dependence on weather conditions.
Some of the reasons behind this trend, which is expected to continue to rise, are:
1. A Post-corona Response – Increased awareness of food safety and more demand for fresh produce with high nutritional values.
2. Accelerated Development in the Agtech Area – Innovation in growing technologies – hydroponics, vertical farming, aeroponics.
3. The Climate Crisis – Extreme and unpredictable weather phenomena make it hard to maintain ideal conditions for crops outside. Closed spaces, on the other hand, allow full control of all the variables during the different growth stages – light, water, humidity, air, heat, etc.
With no direct sunlight, lighting is one of the key factors when growing indoors. The two main parameters are light intensity and type of light (spectrum).
HORTIV, from Megalight, located in the Tzipori industrial area, specializes in designing, manufacturing and installing LED lighting systems for closed spaces and greenhouses. The company is backed by Megalight's many years of manufacturing experience, but even more importantly, its customers repeatedly declare how HORTIV excels in service and professional support.
These words of praise refer especially to HORTIV's flexibility and ability to adjust lighting equipment to the particular needs of each grower and the constraints they face. This is true in both cases—customers who come with pre-defined specs, as well those who expect HORTIV to perform an analysis and propose tailor-made lighting solutions.
As of today, closed spaces are used for two primary purposes. The first one is the actual production of crops known to be well suited to growing in closed spaces – such as leafy vegetables of various kinds like lettuce, etc.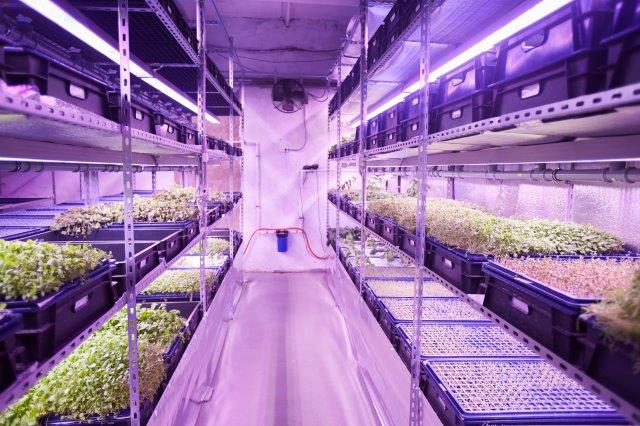 The second is for research, also of two main kinds:
One, to test and determine the most suitable conditions for growing additional types of vegetables and expanding the range of products cultivated in closed spaces.
The second focuses on tissue cultures, aiming to produce seedlings in the lab—another field that has significantly evolved in recent years—and obtain clean seedlings resistant to pests and diseases.
HORTIV supplies LED lighting for a variety of uses and crops:
– Controlled LED lighting systems for agriculture
– LED lighting for nurseries
– Photosynthetic LED lighting for plants and flowers
– LED lighting for cuttings
– Linear LED lighting for vertical farming
– Advanced LED lighting systems for cannabis cultivation
– Controlled LED lighting systems for greenhouses
– LED lighting for indoor crops
– LED lighting for agro R&D labs
– Modular LED lighting
The advantages of HORTIV's LED lighting can be summed up as follows:
Efficiency
The ratio of lighting power input vs. production output. Farmers expect to see a significant yield increase after investing in proper lighting versus "basic" lighting they may already have.
Ease of Operation
The operation should be efficient, simple, and have good interfacing capabilities with on-site controllers. The cost of the infrastructure connecting all the lighting fixtures can greatly affect the general cost per area.
Reliability
Professional service, support, product warranties and of course the manufacturer's solid reputation. Farmers expect fast responses as far as technical support, speed of implementation over the warranty period, and of course, continued servicing beyond the warranty period.