Water Management
Innovation in Agriculture Award at GrowTech for Metzerplas
A Metzerplas Ltd. product was awarded the prize for excellence in irrigation using its subsurface drip-lines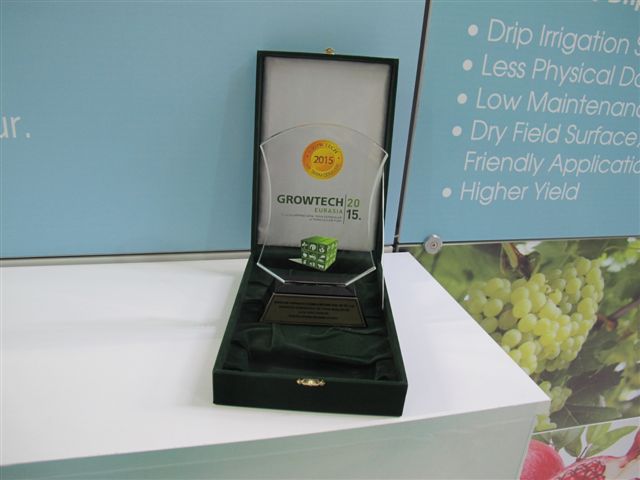 At the Growtech Fair held in December, 2015, GeoFlow –Turkey Ltd (which represents global GeoFlow in Turkey and distributes the subsurface drip-line systems made by Metzerplas Ltd.) Received a prize for excellence in irrigation.
These subsurface drip-lines' main feature is its unique technology that prevents the penetration of roots into the pipes, and is produced by Metzerplas Ltd. The drip-lines are embedded below the roots in systems designed and installed by GeoFlow Turkey.
According to Dov Avital, director of commercial innovation at Metzerplas Ltd., the product's advantages lie in saving water and fertilizers as well as in allowing mechanical cultivation of agricultural areas all year around.
Local conditions are surveyed by GeoFlow engineers in cooperation with the Turkish Ministry of Agriculture, while an Israeli agronomist (Dr. Gidi Sagi) assists in finding the most suitable irrigation regime and thereby promoting the advanced technology.
Avital notes that the potential rapid increase in demand stemming from the system's impressive results, together with government backing, has led Metzerplas to consider establishing a factory for production in Turkey.
In an interview with Shmuel Schupak, Metzerplas' CEO at the Growtech Fair, he maintains that Metzerplas' principal strategy in the rapidly expanding irrigation market is to focus on premium products while relating consistently to the farmers' needs in the field.
Thanks to Metzerplas' strategy of product line innovation, precision, quality and long-term professional guidance for its customers, it has expanded its activities worldwide in recent years. The company now exports about 65% of its production capacity and global investments in irrigation are increasing constantly.
Metzerplas' business concentrates its efforts on the sale of its irrigation systems in addition to selling the machinery (production lines for drip-lines' extension lines) and single drippers, all "home-made" under proprietary designs.
Following the signing of an agreement with the Chinese company, "Shenyang Yuanda", last October, a joint subsidiary was established for the development of the Chinese irrigation market to include the purchase of Metzerplas' equipment for manufacturing drippers and regulated drip extension lines.
Together with new agreements and developments in Mexico (Central American market) and the Ukraine (local production) as well as in China, a huge potential market is opening up in keeping with the company's strategy for establishing production partnerships in key global agricultural markets.