dr. ross peters has been developing onions for hazera, the third largest onion marketer in the world, for 35 years. he told us about onion varieties, characteristics, markets and demand, while refuting some common misconceptions.
onion growing is affected by daylight hours and so four hazera onion development teams develop varieties in various growing regions. the israeli team specialises in short day varieties suitable for warm, dry as well as humid regions, particularly for south america, east asia and africa, making the seminar particularly important to the african and brazilian delegations that came to the seminar.
onion varieties include colours such as red, pink, yellow and white. certain regions
prefer certain colours due to tradition, culture and culinary preferences. yellow and red onions are most common in israel. red onions provide greater health benefits.
when eaten, onions are initially sweet although they are considered to be pungent. they develop the pungency after being chewed for a few seconds. the sweeter varieties are in particular demand in the us.
the onion's final form is affected by growing methods: if grown from sets or green transplants they tend to be more elongated; if grown from seed they tend to be flatter. round onions are in ever greater demand whereas conical onion sales are declining.
onion varieties must be adapted to growing conditions as well as to their final market.
onions have relatively long shelf lives, but this can be variety specific and ranges from one to eight months' storage depending upon variety, growing, harvesting and storage conditions.
onions are one of the few vegetables for which demand is increasing and for two main reasons, one – population growth, two – onions are a basic global kitchen commodity. the growth in demand in the us market is attributed to the increase in population of mexican extraction and the increased popularity of salsa whose preparation requires a great deal of onions.
hazera invests heavily in developing disease resistant onions and they are, to date, resistant to pink root.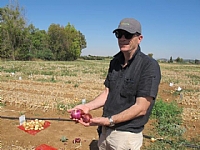 global product manager wim van der heijden added that the world onion market is estimated at 20 million tons and should double over the next twenty years, mainly because, in places like brazil and central africa, hybrid seed although more expensive doubles yields, also populations are growing and demand for onions is increasing. hybrids are therefore worth investing in for their relatively high yields. hazera is one of the three leading hybrid producing companies and thus contributes to increased global onion yields.