Water Management
Dorot Control Valves' Seminar in Latin America
Technical Seminar at Dorot Control Valves in Latin America 2014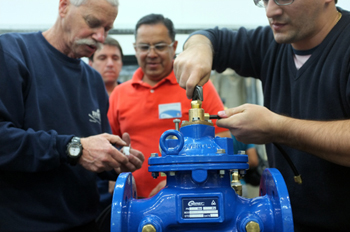 Dorot Control Valves ("Dorot") holds two technical seminars every year. One is is for Spanish speakers and it is held in January – February. The other one is in English and it is held around October.
Dorot hosted the week-long seminar in Spanish this February. This seminar was intended for company's sales agents, partners' clients, and engineers. They come to us from Spain, South America, and Central America. The seminar focused on introducing Dorot's products to the participants, and offering them the tools and capabilities to deal with the operation and maintenance of Dorot's variety of products. Participants joined theoretical lectures explaining the products, principles of their activity and function, important concepts in the field and exercises in assembling products throughout their week-long stay in Israel. Participants were introduced to the various departments in Dorot's factory, and participated in practical workshops during the day. Participants visited field installations in the northern part of the country, as part of the theoretical learning.
In the end of the seminar, representatives of Dorot's customer presented case studies and discussed them to examine how to implement the theory they have studied in a practical manner.

The participants remained in the country for another two days of touring in Israel capital Jerusalem and in the Dead Sea, after the learning phase.
Thirty-five happy and satisfied participants completed Dorot's seminar.

Gabriel Mizrahi, Director of Latin American Sales at Dorot, shared some concluding words: "Dorot sees the annual seminar in Spanish as a central and important event, and has hosted it in Dorot for 22 years. This event strengthens the relationships between Dorot and the Latin market, and reinforces the customer commitment to the Dorot solutions. We mix theoretical lectures with practical workshops and tours in the country, so that participants have an exceptional experience and will benefit the most from their visit to Israel and Dorot's factory ".

Dorot is already planning the next English seminar scheduled to take place in Israel by the end of this year.