Water Management
Dorot Involved in a Sophisticated Project
Preventing Lake Pamplonica's fountain from spraying passers-by - Dorot's project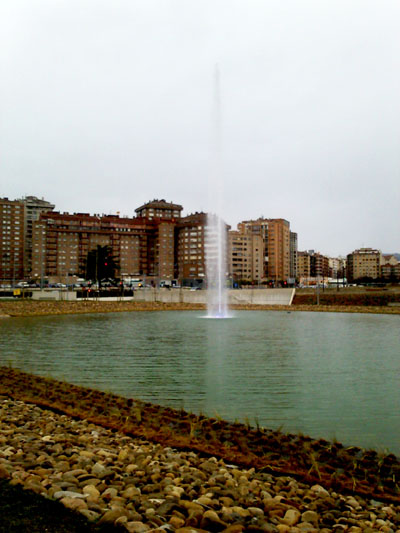 Dorot Control Valves ("Dorot") participated in a project in Spain, to prevent one of the fountains at the city's center from spraying passers-by. This project is closely related to the construction of a new neighborhood, which definitely needs pedestrian walking areas.
The technical system comprises a recirculation system intended to control the water quality of the lake and also to provide an attractive fountain.
The system is installed in an urban lake surrounded by gardens for public use in Pamplona (Spain). There is a fountain which is both ornamental and is part of a water recirculation system in the middle of the lake. The height of the fountain's water stream must be adjusted proportionally to wind speed, in order to avoid wetting passers-by.
Dorot Control Valves and the Hidroglobal k0-4 Company took part in designing the system comprising the following components:
– A water recirculation system with multiple On/Off solenoid controlled pumps arranged to pump water from various points in the lake.
– Lake level control system to re-fill water designed to meet the desired water level.
– Automatic system controlling the height and volume of the fountain according to analog data gathered from of the wind gauges.
– Solenoid charge of washing the filter.
The proper activation of the hydraulic pumps is necessary to establish the series of logical connections and timings required for proper operation of the entire system, as the operation of the fountain depends on multiple parameters, and not only on the system adjusting the height of the fountain.
For instance, if the Condor controller is kept active, while it is not activated (that is, the pressure pumps are not activated), the solenoid control for setting height will suffer greatly accelerated wear, and the fountain will not reach the set height. The Dorot system offers the proper coordination between the Condor controller and the activation of the hydraulic pumps.
All the installed controllers and valves are utilized to control the flows and pressures of the filtration system and the height of the fountain. Therefore, the fountain is both complex and smart system, as well as an aesthetic attraction.
Dorot and Hidroglobal are regularly collaborating with the local municipal administration on several projects related to improving environmental performance, such as reducing leakage irrigation nets, and adding 'smart' capabilities to the city's water system.