Water Management
Dorot Took Part at the NFPA Conference, the Largest Fire Protection Expo
Dorot launches its fire protection operations in the US market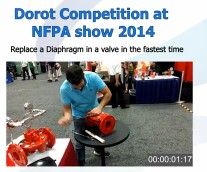 Dorot Control Valves ("Dorot") participated at the NFPA Conference & Expo which was held in Las Vegas, NV in June this year to launch its US fire protection operations. This was Dorot's debut at a National show in the USA.
The NFPA is viewed as the largest fire protection show for the commercial market (gas and oil are at the OTC).
Danny Rosenbluth, Regional Director of North America, Tells us: "We had visits from all areas in the world – North and South America, Asia, Middle East and Europe. With over 300 visitors at Dorot's booth, we have more than 60 leads from the show. Many parties showed interest in the diaphragm solution vs, the Globe valve"
Every day Dorot Held a Competition for a mini iPad where the competitors had to replace a Diaphragm in a valve in the fastest time. Danny says: "both visitors and exhibitors could try and break the record for the day of changing a diaphragm in a valve, about 10 competitors participated every day. They had only 2 wrenches to work with and a rubber hammer. Times were between 1.29 and 4 minutes. This showed the competitors the ease of maintenance of our valves".
Next year, the NFPA show will take place in Chicago and we will have a larger booth and expect to have greater local exposure.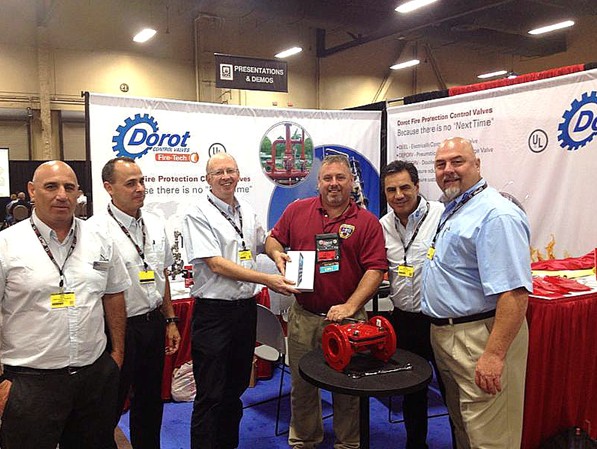 On the first day the winner was : John Mullis from Michelin – 1:52
On the second day the winner was: Jesse Ricord – 2:01
On the third day the winner was: Walt Mayfield from
the Children's medical Center in Dallas, Texas – 1:29
Watch Dorot competition at NFPA show 2014 Now