Dairy Farming
Bovine Heat Stress: A Thing of the Past with Munters Breeze Fan
The fans allow an increased population of 20% and the system pays for itself within a year to eighteen months
Interview with Gil Inbar - Munters Dairy Segment Manager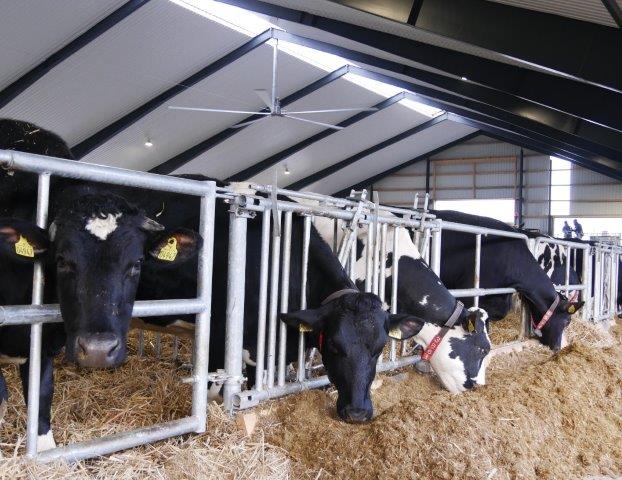 In hot climates, dairy farmers and cattle breeders must contend with bovine heat stress resulting from high temperatures and humidity. A high temperature humidity index (THI) affects all cow and calf health indices and adversely affects milk production, quality, fertility, metabolism, and heat induced bovine lameness in both cows and fatening bulls.
For over twenty five years, awareness has been growing and industry has been developing climate control systems for reducing the effects of heat and humidity on cows and fatening bulls..

Some twelve years ago, Munters developed its high volume low speed Breeze Fan. Its efficiency is due to its large, three to seven metre blades, depending on the size of the cow shed.
The Munters fan uses a highly reliable German Nord Gear EC electric motor. It is also very energy efficient. Other parts of the fan are manufactured and assembled in Denmark.

Munters invests heavily in research and development with a view to improving the fan's performance and maintaining its high reliability standards. Over the past two years, it has launched an improved model. The blades have been reinforced and are able to circulate a greater volume of air. It is eminently safe for both humans and the animals in their care. It simply works, absolutely maintenance free, for years and years.
One great economic benefit is that because the fan does a thorough job of dehumidifying, the farmer can keep more cattle in the same area than was previously possible.

| | |
| --- | --- |
| | |
Many years of experimenting have demonstrated the advantages of the fan and witnessed a marked improvement in all heat stress induced indices. Gil Inbar, who has been instrumental in establishing several large projects worldwide and is currently Munters Dairy Segment Manager says, 'In all cow sheds where Breeze Fans have been installed, milk production has increased by 10%, fertility has increased by 15%, lameness has been reduced by 50% and the cows were generally far healthier.
The fans allow an increased population of 20% and the system pays for itself within a year to eighteen months, due to the improved indices it engenders.

Munters is highly experienced in climate control and it employs experts from each of the disciplines. It is therefore able to help farmers examine various aspects of their cattle sheds and suggest improvements that will increase production. These include recommendations for optimising the basket products they require, whether or not they are produced by Munters.

Competitors have come and gone, over the years but the Munters Breeze Fan has only gone from strength to strength, and is currently one of the market leaders and sold all over the world through its distributers and offices in over thirty countries.
Last year Munters launched a Breeze Fan for sheep and goat farmers worldwide. Reports regarding increased milk production and growth have been highly favourable.