Agriculture knowledge
Agricultural Cooperation with Rajasthan, India
Yair Shamir, the Israeli Agriculture Minister hosted a big delegation from Rajasthan, India on last April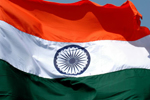 Head of the Delegation, Mr. Ashok Gehlot is Rajasthan's Agriculture Minister.
Rajasthan is the largest country in India and one of the most popular touristic destinations in the country.
The Indian minister was impressed by the agricultural abilities of Israel after his visit to the Arava R & D Agriculture Park.
Israel and Rajasthan holds a comprehensive program of agricultural cooperation and maintain few cooperative centers which demonstrate the Israeli technologies in the field of growing Pomegranates, Citrus and Palms.
"India exists as a micro-cosmos for global challenges in areas as nutrition wealth and water resources" said Mr. Shamir. "I'm glad to see once again that Israel's agricultural capabilities have significant contribution for empowering Israel-India relationship".