Greenhouses & Covering
"The second belt of China is ready for modern horticulture"
The new greenhouse project by 'Growing Smart Technologies'- 6,5 hectare project in Leping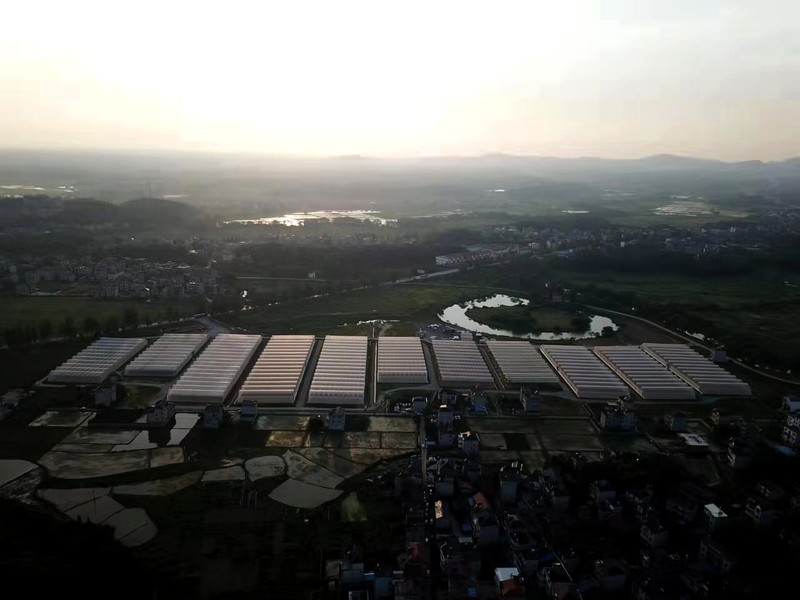 Strawberries on hanging gutters, lettuce on NFT, vine crops under an F-Clean roof, and a propagation area for young plants. All these cultivation methods are being combined in the new greenhouse project by the Growing Smart Technologies team in Leping, China. The greenhouse will serve the city and the province while also demonstrating the possibilities offered by different technologies and crops on a commercial scale. "Other than being technologically possible, we also want to make sure that it will be feasible economically", says Roy Peleg with Growing Smart Technologies, the company that is realizing the turn-key project.
Growing industry
"Horticulture has been a growing industry in China, but mainly on the Eastern shores. The provinces in the West are where most people live and where a lot of attention goes. Yet also in the rest of China, the industry is developing, with high growth rates. A lot of things we first saw in China 5 or 10 years ago are happening now in the second belt of China. Introduction of modern agriculture is a part of it." He adds how he has been traveling to China since 2003 and has seen the country change from a place that's opening to the world, to a country where the roads are no longer just filled with bicycles and a few cars, but with many Ferrari's as well. "The economic growth has been rapid and the fascination for safe and quality grown food is high."
Four different zones
Growing Smart Technologies, together with their Chinese business partner were granted the contract for the greenhouse project in Leping, a city in the northeast of Jiangxi province. The 6,5-hectare project is divided into four different zones. "Since there's a very high demand for strawberries in China. We will grow them on hanging gutters in one part of the greenhouse", Roy shows. "Then, we're to grow tomatoes, cucumbers, and melons in a greenhouse that is covered with F-Clean, just like the strawberry zone. The climate in Leping includes a rough winter, and very humid and hot summer, meaning that glasshouses are not necessarily the solution. F-clean coverage is providing more advantages than a glasshouse, especially if you have to deal with natural ventilation – something that we will have to since pad & fans are not suitable for the region."
The project is also equipped with a 0,5-hectare zone for growing hydroponic lettuce on floating rafts, and a 5000sq.mt. nursery that will both serve this project and growers in the region. In addition to this 6,5 hectare, there's another 3,5-hectare land available, where blueberries are planned. "But we can transition to something else like grapes or another orchard crop that can be grown undercover, in protected conditions", says Roy. He explains how they incorporate the strict Global GAP guidelines into the project, despite they aren't recognized or required in China at the moment.
"We want this project to be prepared for the future and to teach the staff at the site how to work on common standards in growing. This entails a high standard of sanitary conditions, verifying that fruits and vegetables that are grown are picked, packed, handled, and stored in the correct and regulatory way reaching the standards of the Good Agricultural Practice.
Ongoing support
After completing the project, Growing Smart Technologies has committed to supporting the team for two more years. They built an office and a training facility nearby the project to do so. "The training will also include a deep look at maintenance, for instance. Later on, we'll also teach workers how to sort, pack, package, and grow." The greenhouse is also equipped with a visitor's area, thus allowing all the curious people to see the greenhouse without having to actually get into it. "Unlike many other projects in China, this is not solely a demo: it's a project that was created with a budget in mind, to be economically feasible as well as demonstrate the importance of that to growers: there are techniques available that allow you to grow vegetables without pesticide residues in an affordable way.
Demo purpose, but not a demo-farm
According to Roy, the Leping project is one of the biggest currently being realized by an Israeli company. "Israel is known for the polyethylene projects, but we also believe in the value of F-clean." Also, unlike many other projects, this showcases many techniques in one place– yet it's not a demo-farm: it's economically feasible. He believes this will help the development of the industry further. "We demonstrate the basic monitoring systems, and the various soilless growing systems, including the strawberry gutters. Then there's the nursery with the overhead irrigation and gutter booms. The greenhouse is equipped with shading screens and a forced ventilation installation and is being heated with hot air & water. On LCD screens, video's from the greenhouse and online data from the different control systems are to be shared.
Also highly interesting is the incorporation of the ROVER: a small vehicle developed by SensiRover that is designed to move on heating rails, concrete paths, and through different greenhouses. Mounted with an RGB, an infrared, and a general white screen camera, it will not only be the eyes of the agronomists that are not onsite, but it will also help monitor and follow-up the crop. To help with labor, the team works with the software of PickApp, an Israeli system that measures worker output, and increases both productivity and the quality of your produce. "There's to be a lot of practical research going on in the next two years: what are the best varieties to use, what irrigation, fertigation, climate strategy", Roy sums up. "With this information, the team will be ready for the future, even if we're no longer there."
"There's a high demand for rapid development in these regions", Roy concludes, adding that that doesn't necessarily mean it's an easy market. "In China, construction projects can be realized rapidly. That's different from horticulture: if you want to harvest tomatoes, you need time to propagate the plants, to build the greenhouse, to have the materials ready, to make the calculations for the greenhouse, to level the surface", Roy sums up. "We try to get everything going as soon as possible, and at the same time, it is the long-term that we focus on. If we want to show the possibilities of high-tech horticulture, we also have to prove these projects to be successful in the end."
Original Article : Hortidaily
For more info: contact Roy Peleg: roy@growing-smart.com