Agriculture knowledge
Shamir meets with Peruvian leaders to promote agriculture
Agriculture Minister Yair Shamir met with Peruvian leaders in their government offices on Wednesday to promote cooperation in agriculture and water projects
Sharon Udasin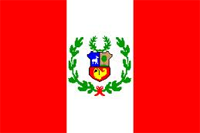 Present at the meeting were Peruvian Prime Minister Juan Frederico Jimenez Mayor, President Ollanta Humala and Agriculture Minister Milton Von Hesse.
"The Peruvian government sees Israel as strategic partner for the economic development of Peru, thanks to Israel's capabilities in agricultural technologies and Industrial Security, Shamir said.
He praised the 6 percent annual growth rate of the Peruvian economy, as well as its political stability, which has opened doors for foreign innvestment.
Israeli companie's investments in the Peruvian market in energy,agriculture,medicine and communications amounts to more than 1$ billion, the ministry said.