Plant Propagation
New Flower Varieties in Time for Christmas
Danziger - 'Dan' Flower Farm has announced it is launching more than 30 new varieties of cut flowers, which will be introduced to the market in the 2016 season.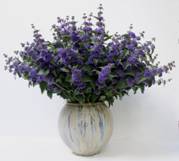 the first variety is euphorbia – forix™ bliss – a unique red and green flower that makes it the perfect ornamental accessory to any christmas decorative need (bouquets, flower arrangements and even as a standalone). forix™ bliss has excellent shelf-life. it is convenient in cultivation, with a fast growth cycle. it is a high-yielding product that can be regulated to a continuous harvest
the second variety is lepidium – emerald beads™ – an ultimate filler that blends harmoniously and adds volume and quality to any flower arrangement or bouquet. emerald beads™ has rich stems with many laterals; it is an eco-friendly product as it has no lighting requirements and can be grown in 4 seasons in equatorial climate.
an additional variety is caryopteris – pagoda™ series –
formerly known only as a landscaping plant and pot plant, this unique modern cut flower is a true novelty to the market.
the new modern hi-end series includes 3 new varieties in three shades: pagoda™ ocean, pagoda™ lagoon and pagoda™ blush. the pagoda™ is a perennial plant, therefore the grower can expect several cycles of flowers throughout the year. the flowers have very long shelf-life with long lasting green and vivid foliage and long firm stems.
about danziger "dan" flower farm
danziger "dan" flower farm, a global leading breeder of bedding plants and cut flowers, holds hundreds of patents and breeder's rights and offers over 500 different plant varieties, sold in more than 60 countries. the company markets its varieties to approximately 450 customers and holds more than 200 license agreements with nurseries world-wide. for further information please visit: www.danziger.co.il