Agriculture knowledge
Netafim India Was Awarded Irrigation Solutions Prize
The prize for best irrigation solutions provider of the year goes to Netafim India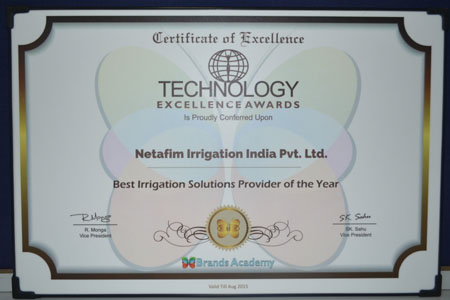 The world's leader in micro-irrigation has been awarded the "Best Irrigation Solutions Provider of Year" at the Brands Academy Business and Service Excellence Awards 2014, keeping with its exemplary performance every year, and with a commitment to continue improving its service to the agricultural community.
Netafim India has been awarded this prize in the category of 'Technology Excellence', which is a proof of the state-of-the-art technology and innovation we possess. The event was organized by Brands Academy, a premier brand management consultancy in India.
Brands Academy is one of leading names in the MICE industry in India. Its credentials are known worldwide for creating platforms and executing unique and fresh concept based events across several industries in India.