Agriculture knowledge
Netafim Aligned with UN's Sustainable Development Goals
Global irrigation leader releases GRI report based on most advanced G4 standard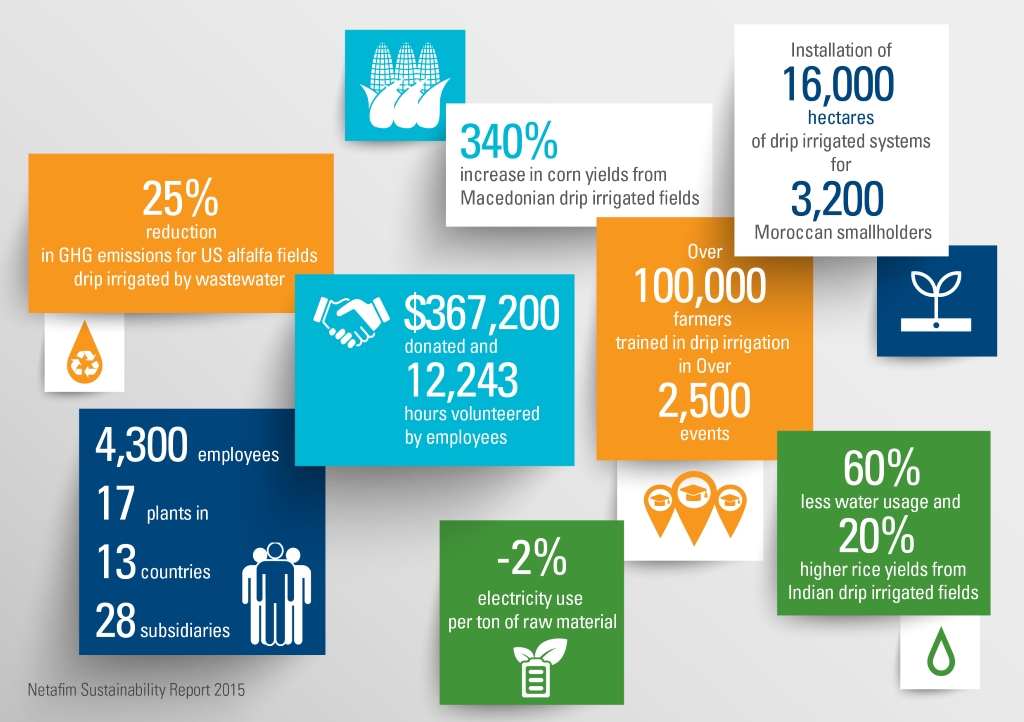 Netafim, the global leader in smart irrigation solutions for a sustainable future,released today its 2015 Sustainability Report, which demonstrates how its 2020 Sustainability Strategy is aligned with the Sustainable Development Goals (SDGs) recently adopted by the UN.
Written in accordance with the Global Reporting Initiative (GRI) G4 standard, the world's most advanced sustainability reporting framework, the report highlights numerous Netafim activities that underscore its commitment to several of the 17 SDGs, which were approved in September 2015.
"Sustainability has been a part of Netafim's essence since our establishment in 1965," said Ran Maidan, Netafim CEO. "As the global smart irrigation leader, Netafim is committed to driving mass adoption of smart irrigation solutions to fight scarcity of food, water and land. Offering the most comprehensive and advanced solutions for all crop types and for farmers of all sizes, we are helping the world grow more with less to ensure a sustainable future."
"For years, Netafim has worked tirelessly with our partners in the public and private sectors to advance sustainable agriculture practices and help define ways to achieve global sustainability," said Naty Barak, Netafim's Chief Sustainability Officer. "Our 2015 report demonstrates how our sustainability strategy supports these efforts and is aligned with the UN's Sustainable Development Goals."
"By helping farmers achieve sustainable livelihoods, increasing access to drip irrigation, and conducting our business responsibly, we strive to make smart irrigation solutions the accessible and preferred choice for irrigated crops all over the world," added Rachel Shaul, Netafim's Head of Marketing and External Affairs.