Water Management
Israeli Water Companies in the Philippines
Ten Israeli water companies participated in Water Philippines Expo.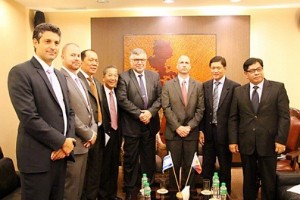 Ten Israeli water companies recently returned from Water Philippines Expo: IDE, Miya, Odis, Ezpack, Watergen, Metzer Platz, Amiad, A.R.I., Bermad and Arad.
The Israeli companies sent local representatives to man the Israeli booth, which was organized by the local Economic Office and Israel NewTech. Israel's Economic Officer in the Philipipines Doron Hemo presented on the Israeli water revolution in the arena of agriculture, industry and investment. At the seminar 5 Israeli companies presented their solutions to a professional audience of local water utility representatives.
According to Hemo, the Philippines presents numerous opportunities for Israeli water companies. The current local government in the Philippines has committed to doubling investment in water infrasutructure.

(originally published in Hebrew in the Israeli Foreign Administration Blog).