Agriculture Cooperation
Israel & UAE: First corporate cooperation for Agriculture
Nobel Green appointed as representative for the AgraME show held in the United Arab Emirates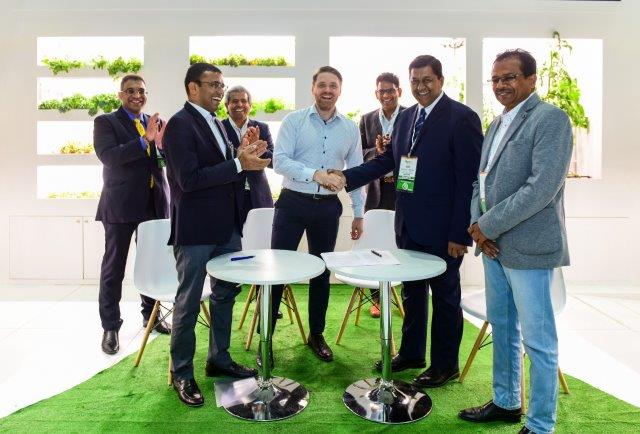 herzliyah, israel, dubai, uae — wednesday october 12, 2020: nobel-green, ltd., owner of the leading agriculture website israelagri.com, and agrame, the united arab emirates leading agricultural exhibition and conference signed an agreement for co-operation, following the israel–united arab emirates peace agreement to improve agricultural production in the middle east.
according to the agreement, nobel-green will serve as the exclusive representative for israeli companies wishing to participate in the upcoming exhibition that will be held in june 2021.
the united arab emirates, which has less than 1% of arable land, is set to reap high growth from its agricultural sector with the help of israeli technology. israel, a world leader in agriculture under conditions with little water and high heat, will sell its expertise to farmers in the desert nation.
agrame, the middle east's longest-running exhibition and conference, organised under the patronage of the united arab emirates ministry of climate change and environment, brings together global leaders in agricultural technology (agratech), aquaculture, animal health and crop farming.
exhibition director, sheetij taneja said, "we look forward to the participation of israeli companies at agrame and see great potential in the know-how and technology that they will bring to the uae. we're certain that agrame will be a good platform to showcase these technologies to the gcc countries."

the agratech sector at agrame brings together the latest innovations in agriculture and precision farming to increase production and address food security. as a long-established agricultural event, agrame's reputation allows exhibitors to generate quality leads from the middle east, africa and the indian sub-continent.

nurit levy, owner and director of israelagri.com, active in the field of international agricultural media for over 20 years: "in conversations with various israeli companies, i have learned how much they anticipate becoming acquainted with the united arab emirates agratech companies as well as enterprises. undoubtedly, after a year without international exhibitions, this is welcome news to israeli companies interested in opening new markets and making contact with gulf area countries. i am certain that these companies have much to offer the gulf countries.

agrame will not just be a chance to make connections with companies in the united arab emirates, but also the wider gcc region. with attendees from over 92 countries, israeli companies will benefit from growth on an international level."
organised under informa all secure standards
informa allsecure
informa allsecure is our approach to enhanced health & safety standards at our events following covid-19. informa has collaborated with association partners including ufi, aeo and siso, peers including reed exhibitions and clarion, venues, suppliers, contractors and health, government and local authorities to develop industry-wide all secure standards that raise the bar on safe, hygienic, productive and high-quality organised event experiences.

informa allsecure is how these standards are being adopted in our business. it means that when exhibitors, speakers, sponsors and attendees come to our events, they can connect, learn, know more and do more business, effectively, safely and with confidence.
agrame drives the future of sustainable farming to ensure food security in the middle east and africa by promoting globally renowned methods to boost domestic production. the longest-running exhibition and conference in the region, agrame's reputation as an integral networking and knowledge sharing event, gives exhibitors access to an engaged and targeted audience looking to source innovations, solutions and products.

israelagri.com – an international agriculture website, owned by nobel-green, ltd., managed by nurit levy. the website has been up since 2013, and is the only one that promotes information, advances and innovations in the area of agriculture, agro-tech and food-tech, and is in contact with agriculture exhibitions and media channels worldwide. the website cooperates with israel's leading agricultural research institutes.
for further information, please contact:
agrame- krystle almeida
krystle.almeida@informa.com
www.agramiddleeast.com
nobel green-israelagri.com- nurit levy
info@israelagri.com
www.israelagri.com