Food Tech
Insects are a Promising Source for Sustainable Protein
Black Soldier Fly - ultimate recycling machine made by nature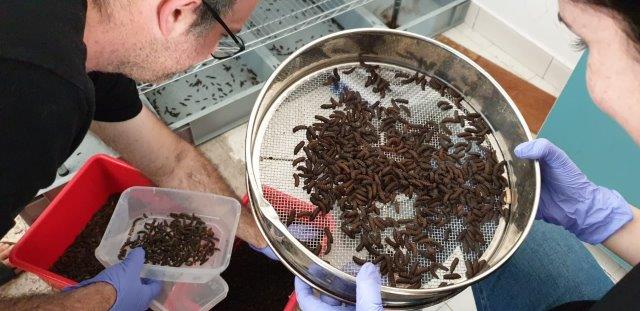 Insects are a promising source for sustainable, alternative protein for the animal feed industry, vital to ensuring the wellbeing of a growing human population. But in order to make a true impact and replace existing components in animal feed, insects have to be produced at an industrial scale, all year long, and in a stable manner.
With its proprietary revivable insect egg freezing technology, FreezeM creates the only viable way to generate a steady output of larvae to insect protein factories worldwide, enabling to create for the first-time stocks of ready-to-use insect eggs – a solution corresponding to agriculture seed production. FreezeM aims to revolutionize the insect farming supply chain, and to become the leading manufacturer of eggs to this emerging industry.

We are specifically focused on one insect species which is called the Black Soldier Fly (BSF). This fly is the ultimate recycling machine made by nature. It can be fed on any kind of organic waste and during its larvae stage (the maggot) it multiplies its weight by 6000 times. If utilized properly, insects like the BSF can turn organic waste and food scraps into a high-quality food source for farm animals, replacing unsustainable protein sources which are being used today such as fish meal, which is being generated by massive harvesting of fish from the oceans.

The current production of BSF is centralized, and each factory produces the entire fly life-cycle (from egg to adult) maintaining on-site colonies to support their production. Since there is a fluctuation in the daily output of fly eggs, factories today produce 2-3 times more eggs in order to support their production. In addition, fly colonies can suffer from sudden collapse and genetic drifts which can compromise the production for a long period of time.

FreezeM's technology enables to decouple eggs production unit from the insect protein factory. Few factories will be dedicated to egg production while small, efficient and cheap 'flour factories' will be spread in close proximity to organic waste concentrations. Thus, FreezeM's technology will save time and money and will reduce barriers to entry for new players in the market.

The company was established in 2018 as a spin-off from the Weizmann Institute of Science. The three co-founders Dr. Yoav Politi, Dr. Idan Alyagor and Dr. Yuval Gilad are all Weizmann graduate which joined forces to create the company while taking part in the first cycle of WISe – the Weizmann Institute entrepreneurship program. The company raised equity investment from Yeda, the WIS technology transfer office and from Kibbutz Nachshonim. FreezeM is also located in the Nachshonim, where it transformed part of the old laundry into a fully operational research lab and a rearing facility for Black Soldier Fly.
Freezem was awarded a SME1 grant by the European Commission's H2020 program won 1st place in the Israel national finals of the ClimateLaunchpad program, and the "Sustainable land use" award in the international finals. In addition, it was accepted to the EIT food acceleration network for promising food tech and Agritech startups.