Water Management
How to Maximize Water Conservation while Minimizing Running Costs
GeoflowTR Subsurface Drip Irrigation Technology - Educating for Economic Irrigation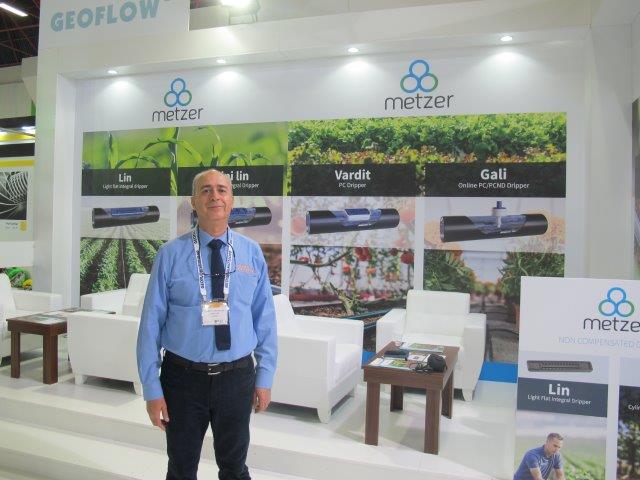 In early December we met Geoflow's Mr. Cumhur Ozdilekcan at Growtech Eurasia 2017. He described his company's ground breaking subsurface drip irrigation system, based upon its US patented Nano-ROOTGUARD® technology that prevents the intrusion of roots into the emitters.
Subsurface systems constitute a holistic approach to irrigation that requires careful analysis of the soil, water and rainfall. Unlike above ground irrigation that can be installed piecemeal by a competent plumber, a specialist engineering team must design and install subsurface systems. Mistakes mean that the system will not work properly and, ultimately, fail.

Above ground drip systems use about half the amount of water that wasteful traditional irrigation systems use. Subsurface systems are even more economical and use about 46% of the water needed by above ground drip systems.
Subsurface systems also save up to 25% on fertilisers, 50% on energy and 50% on general expenses. Most farmers have to replace their irrigation pipes every year. Nano-ROOTGUARD subsurface pipes are warrantied for 15 years against root intrusion and the economic life of the system is more than 25 years.

All this comes at a price and small farmers cannot really afford to make the initial investment. Turkey now has fourteen R&D farms testing this system and the data is already available. The tests are successful, and in relation to these positive results, as of today the government announced the incentive system for small farmers to enable them to take advantage of subsurface irrigation.

GeoflowTR was established in 2014 in partnership with Geoflow USA. Major goal of this partnership is to be experts of sub-surface drip irrigation systems.
GeoflowTR buys the pipes for its subsurface drip irrigation systems from Israel's Metzerplas which also contributes from its agronomic expertise to ensure the success of the pilot projects.

Cumhur points out that GeoflowTR is not just a sales' company, it is in fact an engineering company whose primary objective is to introduce the concept of subsurface drip irrigation into agriculture with the aim of achieving an understanding of sustainable agriculture within the industry.

GeoflowTR's main customers today are institutional and government farms, and large projects. Other customers include innovation oriented, retired white collar workers who have the money and the land to embark on farming.
There is a market outside Turkey for these products, mainly in the Middle East.

Cumhur reminds us that Geoflow does not merely sell a product; it is on a mission to share the knowledge of how to maximize water conservation while minimizing running costs.