Packaging & Branding
Hazera Branded Maggie Tomato Packages
Yeinot Bitan supermarket chain and Hazera Seeds sales campaign for Maggie tomatoes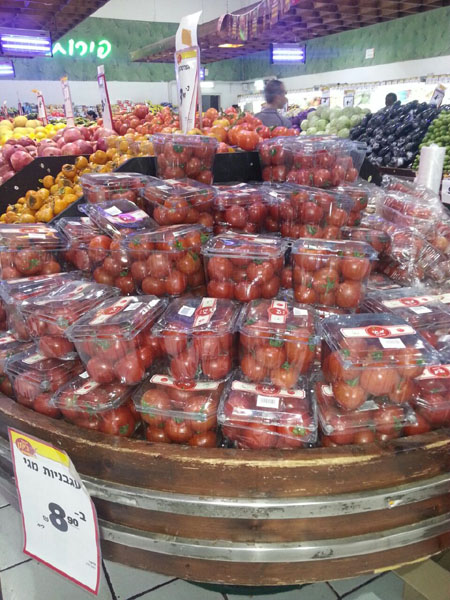 Yeinot Bitan, an Israeli supermarket chain, and Hazera Seeds launch a sales campaign for Maggie tomatoes throughout the country in many of the chain's branches. Maggie tomatoes are gourmet tomatoes characterized by their perfect combination of acidity, sweetness, and rich aroma.
Hazera is currently conducting a sales campaign for Maggie tomatoes that includes a Facebook campaign, in-store tasting events offering
Maggie tomatoes that are sold at the Yeinot Bitan branches in distinctive packaging with a Maggie label, advertising, and branding. Maggie tomatoes offer a unique combination – regular sized tomatoes with the premium flavor similar to the well-loved cherry tomatoes. Maggie's texture is lush and firm, making it perfect for salads, roasting, and cooking.
Maggie variety was developed over six years. It is the product of collaboration between Hazera and the School of Agriculture, headed by breeder Dr. Gadi Ben Oliel. Maggie was developed by using traditional (natural) crossbreeding of premium tomato varieties, based on selection of the finest properties of each variety.
Taste tests conducted in April 2013 by Analyst Sensory Evaluation found that in addition to Maggie's being the preferred variety among testers under the age of 35, it was also the preferred variety among people who define themselves as confirmed tomato lovers. Maggie contains a green gel that is indicative of premium flavor. The gel in ordinary tomatoes has a yellowish shade, while Maggie's is green and concentrated – giving it a distinctive flavor. Maggie offers long shelf life of up to two weeks (unrefrigerated) and three weeks (refrigerated). Maggie tomatoes are sold in retail chains, markets and select greengrocers, in nylon wrapped and branded trays, under the slogan: Maggie – tasty tomato.

According to Itzik Ezra, Director of the Israeli Market at Hazera Seeds: "Maggie tomatoes are distinctive in their flavor and quality from other tomatoes currently on offer in the market, so we decided to launch a campaign to differentiate and brand the variety. We believe that introducing the public to Maggie's premium flavor will make it popular and preferred – the tomato of choice in every kitchen in Israel".