Agriculture Cooperation
GrowTech Eurasia In Growth Momentum
GrowTech Eurasia in Turkey, continues to grow year to year.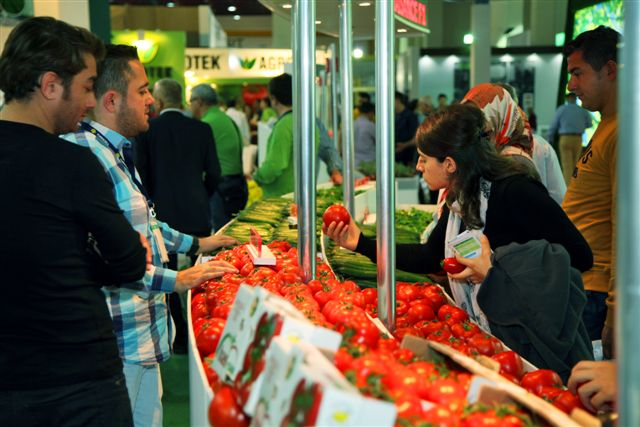 bringing together the turkish agriculture industry with the rest of the world each year in antalya at expo center, the industry's leading fair growtech eurasia international greenhouse, agricultural equipment and technologies fair, organized by ubm is getting ready to open its gates for the 15th time on 02 to 05 december 2015.
lots of companies have booked their stands at the most comprehensive agriculture fair of turkey "growtech eurasia" already. although there is a long time to the fair, %90 of the exhibition space has been sold out by may 2015.
growtech eurasia international greenhouse, agricultural equipment and technologies fair, which is the meeting platform for the world had attracted 75.218 proffessional visitors from 74 countries and 650 exhibitors from 25 countries worldwide. on 02-05 december 2015, growtech eurasia is preparing to host more than 650 exhibitors on a net area of 40.000 sqm with over 30 exhibiting countries, where participants effectively share each opportunity to contribute to developing and strengthening the agriculture industry and showcase new products, technologies and production techniques.
the most effective and powerful specialized fair of turkey and neighbouring geography including east europe, africa, middleeast and caucasia, will be taking place with the industry leader companies' participation.
embracing a wide-range exhibitor profile from undercover agriculture, cut flowers, greenhouse technologies, seed cultivation, fertilizers to modern fruit production, seedling cultivation, landscape architecture, irrigation systems, agricultural pesticide, project designing and packaging, growtech eurasia generates services for its customers as the most efficient and economic option in the marketing and communication channel for 15 years.
within the fair "international buyers programme" will be organized in cooperation with the "ministry of economy" and "west mediterrenean exporters union". the show will be a meeting platform for the neighbourhood countries' potential buyers and decision makers of the agriculture industry which will attribute to improvement in the international trade.
"growtech agriculture awards" is being organized for the 7th time this year which will bring innovation to the agricultural industry and add value to the industry's production facilities.
profile
date

:

02-05 december 2015

venue

:

antalya expo center

city

:

antalya

exhibition area/ sqm

:

40.000 m2

visiting hours

:

02 december 2015 wednesday 10:00 – 19:00

03 december 2015 thursday 10:00 – 19:00

04 december 2015 friday 10:00 – 19:00

05 december 2015 saturday 10:00 – 18:00

total exhibitors

:

650+

international exhibitors

:

200+

exhibitingcountries

:

30+

visitor number

:

80.000 professional visitor

exhibitor profile
• greenhouse and technologies
• seed
• nursery seedling
• young plant
• irrigation systems and equipments
• plant nutrition and protection
• project and consultancy services
• certification
• packaging
• agricultural banking and finance
•agricultural analysis and research laboratories
• agriculture technologies
• agriculture machinery
visitor profile
·farmers, producers, dealers
·greenhouse & agricultural company owners,
·potential buyers who will develop protected and open agriculture
·fruit & vegetable brokers
·purchasing managers of food producers
·purchasing managers of food chain stores
·agricultural organisations, chambers related to agriculture, ngos and their representatives,
·international investors tend to invest in turkish agriculture industry,
·representatives from the media
·university tuitors & students