Water Management
CEO's Describe their Companies' Contribution to Solving the World Food Crisis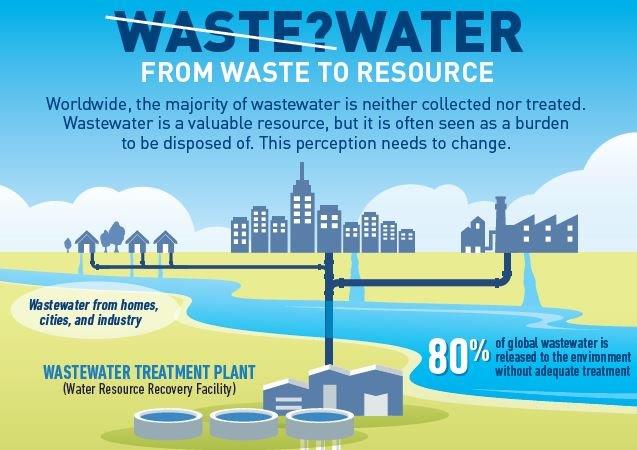 According to the World Bank, the most critical challenge of the 21st century is feeding a world population that by 2050 is projected to reach 9.7 billion.
Since agriculture accounts for 70% of the world's water consumption, anything that can optimise water usage and reduce current day wastage, can only be beneficial.
Integrated water management on a transboundary scale, in conjunction with cutting edge irrigation technology will go a long way to alleviating hunger and its attendant diseases worldwide, and make farmers more prosperous.
In anticipation of the twentieth Agritech exhibition, to be held in Tel Aviv in early May, we spoke to the CEOs of four major irrigation companies that have deep roots in Israel. In order to discover how each of their firms deals with international irrigation challenges, and to get a sense of their visions for the future, we asked each of them the same two questions.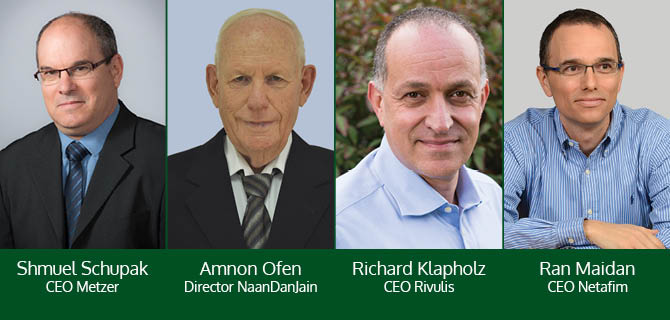 First Question: How does your company strike a balance between the traditional methods used by most farmers and the precision agriculture you make available?

Amnon Ofen, Director NaanDanJain
The irrigation companies that developed in Israel lead and contribute much to global agricultural development because, Amnon says, of Israel's history of being a small country in which collaboration among all four branches of its agriculture – the farmer, technological production systems, R&D and professional field services, was mutually supportive.

Most of the world's farmers work in developing countries and find it hard to use modern technology. They are mainly smallholders in remote regions with an acre of land, sometimes less. Irrigation companies must provide them with the game changing resources and the knowhow.

NaanDanJain together with its parent company, Jain Irrigation, offer the most extensive line of irrigation solutions in the world. They developed the One Stop Agro Shop model, designed to provide smallholders with added value from planning, through seeds, saplings and nutrients, modern irrigation systems, pipes and water supply to the smallholding, agronomical knowhow, purchasing crops and processing them into food.
Sustainable agriculture is maintained by recycling production materials and turning them into biofuel.
The companies have developed an integrated holistic concept for turnkey regional agro projects, mainly for smallholders, called 'From Resource to Root'.
The company is currently finishing the largest drip irrigation project anywhere in the world. It is located in India; it covers 12,300 hectares and encompasses more than 7000 farmers. All systems are fully automated.
Precision agriculture technology forms part of NaanDanJain's service to the individual farmer. The company's size allows it to reduce costs to the farmer.
Shmuell Schupak, CEO Metzer
Farmers are the weakest link in the agricultural value chain: they bear most of the risk while reaping a small part of benefits (most benefits go to the intermediaries). For this reason Metzer focuses on providing robust and reliable technologies that work under real field conditions and are easy to operate with the manpower available to the farmers.
Our motto is "help the farmer increase his benefits", at a time in which not all the fancy solutions that might appear promising in the laboratory deliver under prolonged use on site. Being farmers ourselves definitely helps to understand these constraints, so we design and produce goods according to them.
Ran Maidan, CEO Netafim
With its purpose of helping the world to grow more with less, Netafim is innovating to develop solutions for all farmers – from the most advanced agriculture cooperatives to smallholder farmers in developing countries.
While it is clear that sophisticated farmers tend to adopt technologies that maximize their results, addressing the needs of the traditional and small farmers to help them upscale their capabilities and output can be more challenging.
To do so, Netafim invests in developing markets such as Africa and Asia, and adjusts the Go-To-Market models to reach this population. For example, we implemented in Karnataka State in India, together with the local government, the largest drip irrigation project in the world, covering ~7,000 small farmers. A different model is working with governments that provide subsidies to farmers and promote the adoption of efficient farming practices.
Netafim also has global partnerships with leading companies that share the same purpose. Only last month we launched the "Better Life Farming" alliance, together with organizations such as Bayer, IFC and SwissRe, to unlock the potential of smallholder farmers together.
On the products' front, Netafim solutions are tailored to the farmers needs. We are currently launching a new, first of its kind, Digital Farming system that includes cost effective solutions for small farmers.
Richard Klapholz CEO Rivulis
A majority of our products are made for traditional drip irrigation users. These are the markets we serve because this is what our customers, the famers around the world, need. While the benefits of Precision Agriculture are proven, the parameters of cost and complexity have so far not allowed it to become a global standard. This is why we launched the Manna Irrigation Intelligence service at Agritech 2018. Manna provides irrigation intelligence software-based solutions to growers around the world and helps them make better informed, more confident, data-driven irrigation decisions. Our approach is simple (no need to install equipment of any kind, no maintenance, no upfront set-up costs) and cost-effective (based on an attractive annual subscription fee). With tens of thousands of hectares already covered in multiple countries and with over a decade of investment and experience, we are enabling Precision Agriculture around the globe. The balance that we strike is through our unique combination of field-proven innovative drip irrigation solutions and the Manna Irrigation Intelligence service: both of which are now possible together.
Secound Question: How do you, personally, envisage global agriculture addressing the challenge of feeding an ever-increasing population?

Amnon Ofen, Director NaanDanJain
Most of the world still uses traditional and highly inefficient flood irrigation. It wastes precious water and nutrients. The only viable solution is micro-drip irrigation, which delivers both water and nutrients together (known as fergitation) and can double yields.
Advanced irrigation techniques will require knowhow, artificial intelligence technology, satellite and UAV imagery, sensors and monitors for highly accurate fergitation instructions. They will also facilitate early problem analysis and drastically reduce agriculture's inherent uncertainty.
Greenhouse crops will become increasingly prevalent, thus absolving the farmer from the vagaries of weather and dependence upon rainfall.
Only companies as large as NaanDanJain that place the farmer at the top of the pyramid can provide added value by making him a member of a cooperative that help him cut costs and develop modern markets, while providing a strong backing against marketers and large-scale market forces.
Global warming and its attendant water shortages will force farmers around the world to adopt water saving methods such as the drip irrigation for which NaanDanJain provides leadership. As we say, 'leave the world better than you found it'.

Shmuell Schupak, CEO Metzer
The technology to feed the world's population even with water and fertile land limitations already exists. The challenge for the near future is to do it while preserving the delicate ecological balance, working with nature and not against it. Reusing effluent water, for example, producing more with limited amounts of water as in sub-surface drip irrigation, are examples of technologies we are promoting and can help achieve this goal. Easily recyclable and even compostable irrigation driplines are a must for the future of sustainable farming and Metzer is also investing considerable resources in this direction.
Ran Maidan, CEO Netafim
It is clear that the need for more food and sustainable production will be the most acute challenges the world will have to address. To deal with these, there needs to be a revolutionary change in how we grow food, and use our land and water more efficiently.
Farming by nature is a traditional business that is slow to adopt new technologies. but I believe that with generation change, and as technology is becoming more accessible and affordable – more and more farmers will make this change, including the adoption of digital solutions that will help them grow much more with much less.
When I travel the and see the impact that Netafim technology has brought to the lives of the farming families in India, Asia and Africa, and see the large scale projects we have introduced to many markets and the way it has impacted the overall economic situation in the area, I am filled with pride.
Richard Klapholz CEO Rivulis
As the head of Rivulis, a company that has offered field-trusted innovation since 1966, and knowing the innovation we have in the pipeline, I am confident that the latest agricultural methods will offer even higher yields and increased crop quality. Most of our innovation efforts are focused on making micro-irrigation more accessible to more growers around the world. We know that the methods we offer today significantly increase yields (often by 30% but in some cases also by 100%). Newer methods, with a higher ability to apply variability, and a wider use of modern agriculture by farmers, will have a cumulative effect enabling exponential growth in food production. I am very optimistic and do not believe that 'feeding the population' will be one of the top 10 global challenges in the 21st century.