Agriculture knowledge
Bayer and Trendlines establish Ag Innovation Fund
Bayer commits $10 million investment over a five-year period / Trendlines to leverage early-stage investing expertise in managing Fund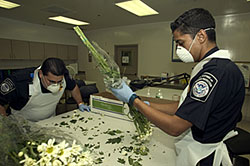 Misgav, Israel – Monheim, Germany, April 18, 2016 – Bayer and Trendlines, an Israeli innovation commercialization company, announced today a partnership to invest in agricultural technologies through the establishment of the Bayer Trendlines Ag Innovation Fund. The flexible five-year partnership agreement includes a $10 million investment from Bayer, which will be managed by Trendlines. The partnership couples Bayer's decades of experience in agricultural science, innovation and regulatory affairs with Trendlines' specialization in investing in cutting-edge, early-stage medical and agricultural technologies.

"Israel is a hotspot of innovation and Trendlines offers the right combination of regional know-how and technical experience to be a compelling partner for us," said Adrian Percy, Head of Research & Development at Bayer's division Crop Science. "The agricultural market is ripe for groundbreaking innovation and Trendlines, with its focus on developing startups and new technologies beyond a one-time investment, shares our commitment to supporting productive and sustainable agriculture."

Extreme climatic conditions, weed resistance and pest pressure are just some of the challenges facing agriculture today. At the same time, farmers are under pressure to produce sufficient, safe and healthy food in a sustainable manner. Through the Ag Innovation Fund, Trendlines and Bayer aim to identify cutting-edge solutions to these challenges and thereby contribute to shaping the future of agriculture.

"We are thrilled at the establishment of the Fund and the future partnership with Bayer. It provides our companies with the professional and financial backing that they need for development and business growth and is another step in our ongoing work to build a burgeoning Israeli agtech ecosystem. The Fund provides a great opportunity for Israeli agtech entrepreneurs to fund their revolutionary ideas," remarked Dr. Nitza Kardish, CEO of Trendlines Agtech.
For the full article click here