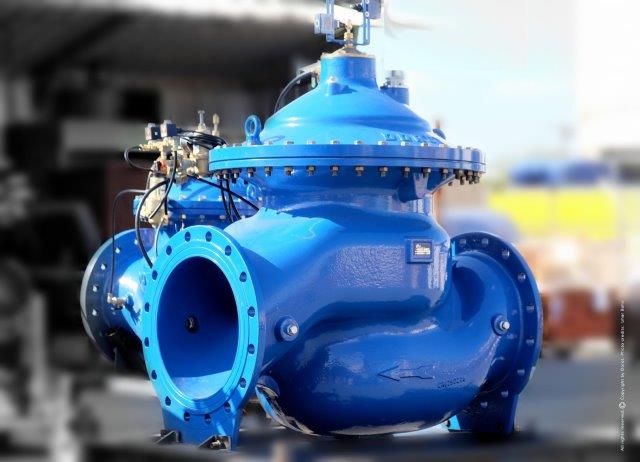 Agriculture knowledge
A Complete Water Control Solutions
Dorot control valves unites forces with OCV control valves under Matholding Group umbrella
Matholding Group is strengthening its market position in water control and handling solutions through the acquisition of 51 percent of the shares in the U.S. company, OCV Control Valves.
The group is rounding out its portfolio in hydraulic control valves and air valves by merging Dorot Control Valves' expertise with OCV's know-how and experience in the U.S. and Canadian markets.

On April 9, 2018, Matholding Group, a Spanish family-owned holding company, further secured its position as a world leader in providing integrated water control solutions by acquiring through its daughter company Dorot Control Valves, 51 percent share in OCV Control Valves.

An American family-owned company, OCV was established more than 65 years ago by Robert E. "Tex" Radford in Tulsa, Oklahoma, USA.
The acquisition reinforces Matholding's commitment to provide complete water control solutions, a leading position already obtained through Dorot Control Valves, Matholding's major pillar in development and supply of sustainable technologies and solutions for control and optimization of water systems. The signing of the contract took place at OCV's headquarters in the United States.

"Matholding is constantly evolving! We understand that our growth relies on the synergies that we create worldwide. The U.S. market has always been a challenge for our group and now, with OCV as part of our family, we are confident in our development and growth.
Besides our common field of activity that brought us together, we share much more with OCV.
We have common values and work principles. We understand the importance of people empowerment. We respect and feed our innovation on the tradition of our founding families with the courage to build the future with the values they pass on from generation to generation.
This is what brings us together today. These are the grounds for our success," remarked Pau Relat, CEO of Matholding Group and Chairman of Dorot Control Valves.
The leadership for this partnership will be led by Pau Relat, CEO of Matholding group and Chairman of the board of Dorot Control Valves. On the operations level the activity will be managed by Jordi Crespi, CEO of Dorot Control Valves.

With sales of more than $12 million U.S. dollars and approximately 60 employees, OCV will strengthen the group portfolio and broaden its area of activity into fluid control solutions for aviation fueling and terminal services and fire protection.
OCV's know-how and area of expertise in these fields, combined with Dorot Control Valves' knowledge in waterworks and agricultural areas and its vast portfolio of hydraulic control valves and air valves, will boost Matholding's activity and position as a leading solution provider in fluid transportation and handling. Together, the two companies are expected to have $60 million U.S. dollars in sales in 2018.

"One of the triggers of our investment that will fuel and drive us to success is the management team we have discovered in OCV. We have a lot of knowledge to share with one another. It is a learning process that will only bring us success. For us, joining strengths with the Radford family is an honour and I am sure will lead us all towards a greater and sustainable future!" remarked Pau Relat.

All investments and combined know-how in the commercial, logistics and production platform between Dorot Control Valves and OCV will generate a growth for all groups' technology in the water segment: hydraulic control valves, air valves, automation, mechanical valves, water meters, filtration and water treatment. The wide expansion of Matholding's portfolio and expertise in solutions in automation and control and

NRW projects combined with OCV's strong reputation and brand awareness in the U.S. market will position OCV as one of the leading solution providers in the water market for the U.S. and Canada.

"OCV has built its reputation on high quality products and the best customer service that we can provide. When we first met with the Matholding team, the things that stood out to us were their strong corporate values and their people-focused company culture, which we felt closely aligned with ours. We are now one team with one goal. We are proud to be a part of the Matholding family and together we are now in a stronger position," remarked Britt Radford, Board Member OCV.