Seed Technology
32nd edition of Macfruit Officially Inaugurated
Exhibitors have increased to 1,000, with 30 delegations n coming to Italy from abroad and 350 buyers attending.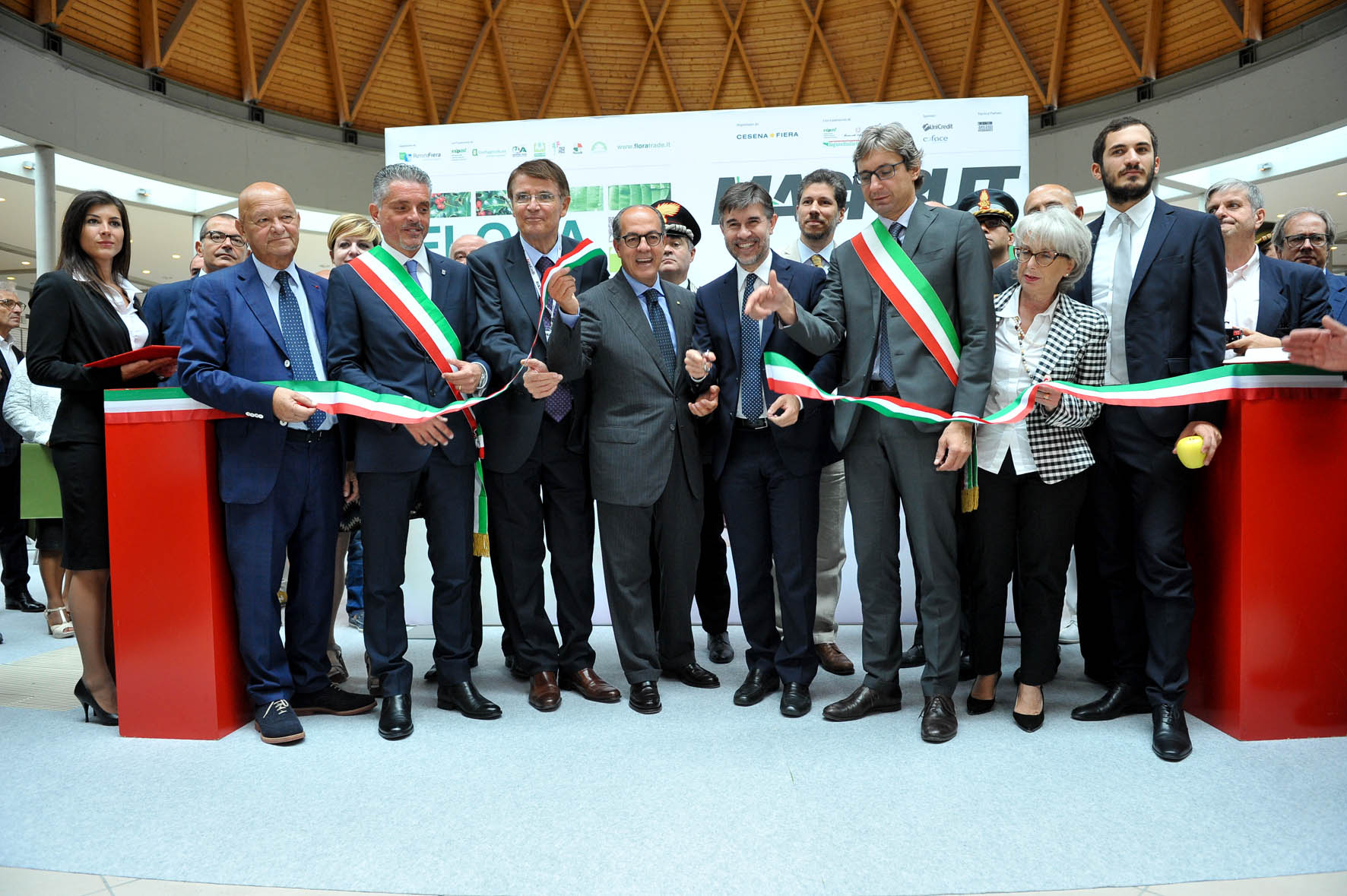 the official inauguration of the 32nd edition of macfrut, organised by cesena fiera and hosted at the rimini expo centre for the first time, took place with great optimism and enthusiasm in facing future challenges.
these numbers were provided by renzo piraccini, president of cesena fiera, on wednesday 23 september, the opening day of the trade fair. "things are looking good thanks to plenty of positive signs. the preview event of the macfrut 3.2 edition raised huge interest with 8,000 participants. this year, the number of exhibitors has risen from 800 to more than 1,000, and one out of five is from abroad, representing 30 foreign countries.
a total of 350 buyers will be attending the event and the exhibition area has increased from 20,000 square metres of the previous edition to 33,000 square metres at the rimini expo centre. this year, we expect macfrut to be the greatest so far. and this is thanks to our many partners, above all unicredit, which agreed to join us, and the administrators who understood the importance and future-oriented approach of this project." piraccini then presented some figures regarding the fruit and vegetable sector. "exports have increased by 10% on last year and, after several years of crisis, household consumption of fruit and vegetables seems to be growing steadily (+3%). with regard to exports, the fruit and vegetable sector ranks in second place, preceded only by the wine industry. i believe that we can work at a global level in this industry to promote italian products. we need more drive and a pragmatic approach but we are capable of this."
the ribbon was cut by andrea olivero, the italian deputy minister of agricultural, food and forestry policies, who thanked all the organisers for facing a bold challenge with macfrut. "a partnership between cesena and rimini, showing great courage and far-sightedness," deputy minister andrea olivero said, "is certainly the path to take in order to be competitive and keep up with the times. in recent years, important work has also been carried out in the field of innovation, paying attention to quality and promoting consumption. moreover, the new feature added this year, namely, the organisation of show cooking initiatives featuring renowned chefs, plays a crucial role in showing the world the importance of our mediterranean diet."
"in early 2015, things started well for the agricultural sector," the deputy minister continued, "yet there is a lot more work to be done." we need to improve some of the phytosanitary barriers, increase the aggregation of production, and focus especially on logistics. high energy costs are heavily affecting some of our businesses. together with europe, we need to make all our resources available, so that italy can play its part in the international market."
"we always need to think big, never small," said paolo de castro, chair of the committee on agriculture and rural development of the european parliament, "and the steps taken by the two trade fairs, cesena and rimini, in order to implement this new edition, are actual proof of this."
lorenzo cagnoni, president of rimini fiera, pointed out that "macfrut is the result of a synergic collaboration, a successful example of two areas working together in harmony." "unfortunately, in the past," cagnoni continued, "italian trade fairs have sometimes been affected by unfair competition and tensions." this edition of macfrut offers an innovative feature, and we hope that it can set an example throughout italy."
the two mayors of cesena and rimini, paolo lucchi and andrea gnassi, also took part in the ribbon-cutting ceremony and gave a speech. andrea gnassi, mayor of rimini, stressed the fact that, if the romagna region gets together as a team, we can achieve anything. yet, in order to do this, we must have the strength to act differently, since only in this way can we become far-sighted. "instead of concentrating on our own area," gnassi said, "lucchi and i decided to analyse both situations in order to understand what is going on in the world. our region has never feared internationalisation, therefore we must work together to offer the best features we have."
paolo lucchi, while thanking domenico scarpellini, former president of cesena fiera, for his contribution to the trade fair and for leaving it in a positive situation, pointed out that the choice of moving the event to rimini was made together with local companies. "we understood that the fruit and vegetable sector was becoming increasingly ambitious," lucchi explained, "so there were two options: either we joined forces to face new challenges or we would risk being held back. hence, we set aside our own centred interests, as we are also doing in many other sectors (water, health, transport and the chamber of commerce) in order to start this collaboration process with rimini. the romagna region must become our strength, like a widespread metropolitan city that shows the rest of the world the best we have to offer. only in this way will we be able to face future challenges."
domenico scarpellini, the former president of cesena fiera, tiberio rabboni, the former commissioner for agriculture of the emilia-romagna region, and the representatives of the dominican republic, a guest of honour at macfrut, also took to the stage: they all received acknowledgement for their deep commitment and work for macfrut over the years.