Green Energy
Water Technology in the Service of Green Energy with Maximum Efficiency
Spark – Solar Panel Cleaning System
Interview with Maoz Aviv, Chief Agronomist at NaanDanJain Irrigation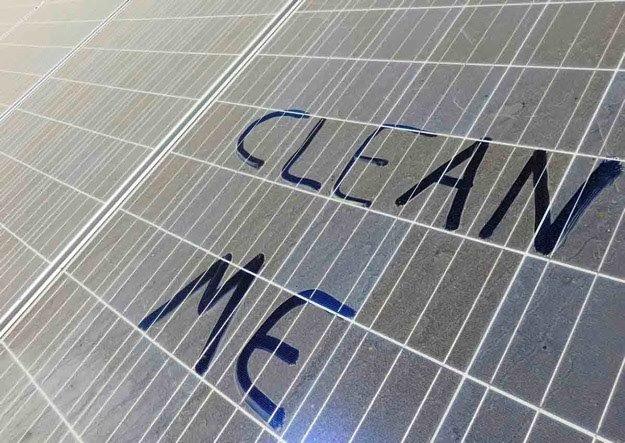 New water technology trends, the Jain family's philosophy of 'that which has been taken from nature must be returned', and a love of the environment and energy have all come together to produce the Spark—a solar panel cleaning system consisting of a product, an app and a user-friendly protocol.
In an interview with NaanDanJain's Chief Agronomist Maoz Aviv, one of Spark's developers, we learned that green energy is the world's greatest economic lever. "We are witnessing a transition in energy production, from oil-based pollutants to green energy, and most countries have signed environmental conservation and pollutant reduction treaties."

All over the world, the number of solar panels being installed is increasing daily. For example, in the sunny Middle East and Africa, people have realized that solar power is the most cost-effective alternative energy source. Modern solar panels produce 5–10 times more energy per square meter than earlier models. Thus, their cost-effectiveness and enhanced technological development encourage the use of, and investment in, solar energy.
Solar energy has become a global trend. A case in point is Germany, where solar energy accounts for one fifth of the country's electricity generation, while Israel aims to achieve the same by 2020. Many countries seek to reduce regulation, remove obstacles, and allow private businesses to generate electricity. In Africa, huge, foreign-financed projects have been established to develop areas in which no other energy is available. In California, all homes will be required to install electricity-producing solar panels by 2020.

However, there is a problem: When solar panels get dirty, their output is reduced by up to thirty percent. Global warming has resulted in sandstorms and unseasonable rain, which only serves to increase the amount of dirt. Research shows that output can decrease by up to one percent per day, as a result. Solar panels are connected in a series, so dirt that forms on just a few of the panels affects them all. Current cleaning solutions are labour-intensive, expensive and often dependent on elusive maintenance specialists. Private consumers can therefore rarely afford to have their solar panels cleaned regularly. Cleaning robots are also far too expensive for private homeowners and small industries.

| | |
| --- | --- |
| | |
Another factor limiting solar productivity is hot temperatures. For example, in the Netherlands the most productive month is May because the radiation is high—this is the beginning of summer. However, the heat increases from June to August. As a result of these high temperatures, production decreases and profits are lost.
NaanDanJain's innovative new device, Spark, has the ability to cool the panels, thereby raising the profits.
Spark is produced by NaanDanJain in collaboration with an Israeli panel installation and cleaning company, following extensive market research.
| | |
| --- | --- |
| | |
Spark is a unique device that cleverly clips onto the solar panel. It fits the wide range of panel types and sizes used worldwide. It does not cast a shadow on the panel and is set at a precise angle that allows its micro-sprinkler to perform a thorough cleaning job.
Maoz Aviv says, "We have developed a unique 15 to 20-second cleaning frequency protocol that varies according to weather conditions. The whole system is very easy to use."
Ergonomics, ease and efficiency were our key aims, as well as effortless and speedy modification. Aviv adds, "We also invested a great deal of thought into sun-proofing Spark".
"We conduct turn-key projects on a large scale," Aviv goes on to explain. NaanDanJain is currently in the process of establishing six huge solar projects in Mexico, Europe, Africa, the Gulf States and India. NDJ's hydraulic design adapts Spark to local water quality and weather conditions. By overseeing these projects, NDJ can share their knowhow and provide support during the installation of this innovative solution.
"Our ambition is for people to be able to buy Spark from their local store and install it on the solar panels of their roofs. Spark is already available from subsidiaries, dealers and by mail order."
"Our goal", says Aviv, 'is to streamline the use of green energy worldwide, which will only be possible when it becomes cost-effective. It will preserve the environment, thus fulfilling our company's vision of 'leaving the world a better place than we found it'."