Green Energy
Sustainability
MIGAL Spearheading Transition of Agri-Photovoltaics From Vision to Reality
Migal hosts SunnySide APV Summit 2023 & Launches Agri-PV Knowledge Center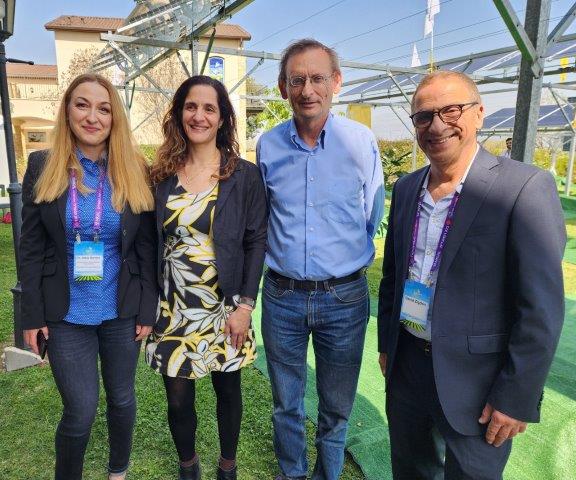 Conference led to launch of Israel APV Steering Committee, 110 pilot projects and joint ventures.
QIRYAT SHMONA, Israel, March 14, 2023 – As the world's leading proponent of agri-photovoltaics (APV), the MIGAL Galilee Research Institute (MIGAL), a mega-research center supported by Israel's Ministry of Innovation, Science and Technology, recently held its second annual SunnySide APV Summit  international conference, and announced the launch of the world's first Agri-Photovoltaics Knowledge Center resource directory.
"As a country globally recognized for solar and agricultural innovation, it's natural for Israel to take the lead in agri-photovoltaics – and we at MIGAL are proud to be its strongest advocate," commented David Zigdon, MIGAL's CEO. "We are excited about agrivoltaics' potential to improve land use, scale the production of clean energy and reduce food shortages – especially given the growing challenges facing agriculture in so many regions."
Agri-photovoltaics is the use of agricultural land simultaneously for growing crops and generating solar power. While studies indicate that agrivoltaics installed on just 1% of arable land could fill global electricity needs, additional research is needed before it's ready for large-scale adoption.

The SunnySide APV Summit, which MIGAL hosted in partnership with Germany's Fraunhofer Research Institute, was attended by more than 600 scientists, farmers, entrepreneurs and government officials from Israel, Japan, Germany, France and the US.  An important session was "Roundtables: APV in 2023", in which governmental officials met with farmers and technologists to discuss strategies for overcoming project bottlenecks. Conclusions were presented to Dr. Dov Khenin, General Manager of the Israeli Climate Forum established by President Isaac Herzog, who will establish an Israel APV Steering Committee led jointly by MIGAL and Israel's Green Energy Association of Israel. In addition, Israel's Ministry of Finance, Ministry of Energy and Ministry of Agriculture and Rural Development updated attendees regarding the Agrivoltaic Project, which will invest ~$5 million in ~110 pilot APV projects during the next two years.
While no utility-scale agrivoltaic installations have yet been deployed, pilots have provided initial confirmation of its advantages:
Improving agriculture: the deployment of solar arrays reduces water consumption, protects crops from over-exposure, and reduces the impact of hail, wind and rain.
Improving power generation: in hot/dry climates, installation of solar panels in irrigated fields can optimize solar power generation.
Improving land use: agrivoltaics will "double" the usage of land for both solar generation and agriculture.
Providing income for independent farmers: agrivoltaics will expand the income-generating potential of their land.
The 2024 SunnySide APV Summit will be held in Israel's Upper Galilee on March 5-6, 2024.
For more information, please see https://sunnyside-apv.com/en/
About MIGAL Galilee Research Institute
MIGAL Galilee Research Institute Ltd is a regional Mega- Research Center of the Israeli Innovation, Science and Technology Ministry owned by the Galilee Development Company Ltd. Recognized as a powerhouse of applied research, for 40 years MIGAL has cooperated closely with industry leaders, innovative startups, and technological accelerators throughout the world.