Agriculture knowledge
Turning Sludge into Compost
An innovative composter installation recently became operational in Israel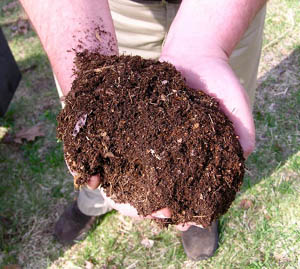 The innovative composter installation developed by "Ramim Environment Resources Ltd.", recently became operational near Nahal Qini in Northern Israel.
The compostization process offers a sustainable solution with optimum economic and environmental qualities as it turns sludge into a product with clear agricultural benefits. This process' main advantages are its zero energy input (the process occurs naturally with the help of bacteria) and the final product's agricultural value.

However, open compostization sites do have serious disadvantages such as the nuisance created by the odor and flies; high transportation costs from the WTP (Wastewater Treatment Plant) or the farm; polluted leachates as well as a prolonged process time (weeks to months).

In the system developed by 'Ramim' that is based on the Rotating Drum method the special conditions created accelerate the compostization process yielding after only 3-5 days first class sludge, free of pathogens and suitable for use as agricultural fertilizer. The process and the project have been approved and supported by the Ministry of Environmental Protection.
The Qini WTP – A project breaking new ground
The Megiddo Regional Council, in keeping with its vision and biosphere status cooperated with the "Palgey-Maim" management company in permitting the establishment of the first industrial pilot project and prototype plant at the "Qini" WTP, which is located close to the Megiddo intersection. This installation with the capacity to treat about 2-4 m3 of sludge per day has been up and running for about a year now. The innovative plant absorbs two kinds of waste from local sources – sludge/manure and tree-cuttings, producing a new substitute for chemical fertilizer, namely compost.
Therefore the project comes the full circle as wastewater from the Regional Council's towns and villages, are purified into effluents to be used in irrigating the region's fields, and the sludge produced during the purification process mixed with the tree-cuttings from the rural surroundings serves as fertilizer to be used by the local farmers. The Company's plans for the future include further cooperation with the Regional Council to expand and treat domestic organic waste, and thereby offer an effective and economic solution here too, while enhancing the environment within the boundaries of the Regional Council.