Pesticide and Fertilization
Tefen Electrical 'ElectroRite' Fertigation Dosing Pumps for Cost Effective Usage
It is as successful with fertigation as it is with chlorination and other applications
Nitzan Grossman, Customer Training & Technical Service Manager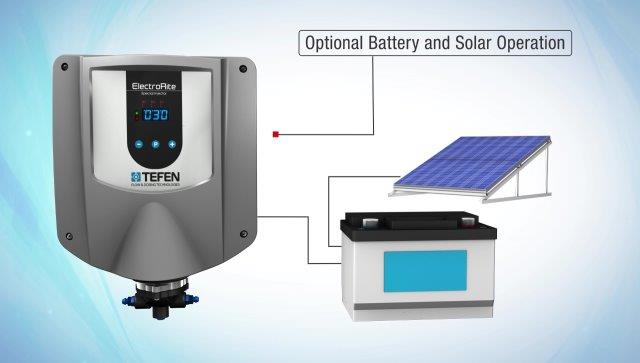 for more than forty-five years, tefen has been producing flow products, such as fittings and tubes, for agriculture, industry, sanitation and other applications. it also produces high quality hydraulic dosing pumps for additives and chemicals for agriculture, water purification, sanitation and industry.
tefen has been successful with its global marketing and provides an inclusive service disposition for its many customers through its international distribution network.
until recently, tefen's dosing pump division specialised in injection ratio hydraulic pumps, whose advantages are well documented:
they are independent and do not require external energy or monitoring. they are placed along irrigation lines and are activated by the flow of water passing through them. the fertilizer dosage is relative to the amount of water passed in the line for each crop (injection ratio).
however, they also require water pressure for effective operation.
tefen has recently launched the 'electorite', a new electrical injection dosing pump.

in trials, 'electrorite' displayed the following advantages:
– it is independent of the irrigation line and does not consume water line pressure.
– it works well on large water lines and by consuming low current consumption.
– it facilitates injecting relatively large quantities of additives and works against high line pressure, up to 7 bars.
– it can be controlled by an external irrigation controller and is reliable due to its rugged construction, durability in open fields, resistance to uv and corrosive chemicals, and ease of maintenance.
another advantage is its versatility. it can work off the 220 v mains, a car battery or a solar panel, meaning that it can operate in the absence of an electrical grid.
it has undergone two years of trials in fields and groves, and for water chlorination and purification. it is as successful with fertigation as it is with chlorination and other applications.
tefen has an international distributor network that can go anywhere either on a regular, or as required basis, for both marketing and maintenance.
tefen's engineering and development department together with its marketing department provides technical support through the web, via a telephone app. and, naturally, by direct contact with the customer.