Agriculture knowledge
Strict Control leads to Slow Lemon Season
ALL LEMON export seal leads to reduced Argentinian exports of lemons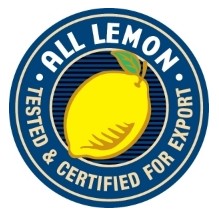 The final weeks of Argentina's lemon 2014 season has been characterized by less volume than 2013. The fruit quality has been superior, so arrivals have been well received by customers worldwide, despite the downturn.

Romain Corneille, president of ALL LEMON, explained that in comparison to 2013, 2014 is marked by a fall of over 45% less exports than 2013, mostly due to severe winter frosts in 2013 which hit Tucumán groves. This was followed by a harsh drought during the spring that lasted until mid summer.
A total of approximately 145,000 tones of lemons are expected to be exported in 2014. The greatest of care has been taken to ensure the delivery of the finest product to all those markets that ALL LEMON managed to develop with great effort in recent years.

Corneille continued and said that ALL LEMON brand has managed to attract many new clients by focusing on continuous improvement of quality in very demanding markets, such as Asia and the Middle East. It has also stimulated demand for lemons in general.

ALL LEMON monitored the quality levels of 16 member companies on a daily basis at the 18 pack houses this year. Approximately 50,000 units of lemons were carefully checked each week to ensure that only the very best fruit was shipped to the most demanding markets, during peak production period.
The 16 firms certified by ALL LEMON include: Expofrut Argentina-Univeg, F.G.F. Trapani, Frutucumán, Cauquén, Argenti Lemon, Cecilia Martínez Zuccardi, Citrusvil, Citromax, Juan Sigstad SRL, La Moraleja SA, La Patria SRL, Latin Lemon, Pablo Padilla and San Miguel, and Ledesma, Moño Azul.