in early february, gat fertilizers attended the berlin fruit logistica trade show, the biggest in the world for the handling, marketing and transport of post picking produce. we met managing director kuti sulimani at the company pavilion, who described his company's policy and the special relationship with his farmer customers.
gat fertilizers opened its first liquid fertilizer plant in southern israel town kiryat gat in 1985. the plant, together with its attendant professional service and logistics, created a new bench mark in the product and service standards offered to israeli farmers. following the success of the first plant, another one was opened in northern israel in 1992 and ultimately moved to its current location at the alon tavor industrial park.
gat fertilizers ltd. embarked on its first overseas' venture in 1993 when it opened gat fertiliquidos near seville in spain. two more plants were set up in the iberian peninsula, one in extremadura and the other near almeria. these successful plants provide services for extensive areas of farmland in spain.
according to kuti, 'we have the edge because we are able to provide a wide range of products and, particularly, because of our ability to combine liquid and solid fertilizers containing unique additives such as various concentrations of micro-elements produced at our plants, using exclusive, cutting edge technology. the gat fertilizers precise production methods allow us to tailor fertilizer composition to a specific crop and thus maximize yields. this concept dictates the way gat fertilizers operates. our particular approach has led us into supplying fertilizer and irrigation control systems to the farmers with whom we work. we have realised that external factors may affect fertilization, and optimising irrigation, or fergitation, can enhance effective fertilization with attendant benefits to the farmer.
this concept has also made gat fertilizers invest a great deal of effort in developing new products, both independently but also in partnership with the farmers we serve.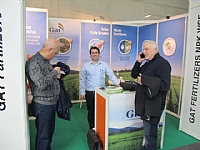 kuti believes that the fertilizer industry is on the brink of developing its existing products and therefore gat fertilizers has invested heavily in developing and integrating new products into its current range. for example, the company is about to offer a high quality, rapid soil fertility testing service to farmers at its laboratories in southern israel. these have recently been renovated with the latest and most advanced testing equipment. it seems that the thinking behind this approach is actually part of the company's original vision of the fertilizer being used exclusively for the needs of the plant.
this move has been facilitated by the extensive knowledge we have acquired over the years both in israel and in spain to optimise plant development and yield by providing them no more and no less than their precise needs. this approach manifests itself in the fertilization plan our expert field teams submit to our customers, tailored to the crop, soil type and water quality,
gat academy – in our efforts to enrich the farmers' store of knowledge, gat fertilizers has established a fertilizer centre of learning and, for the past two years, has been offering farmers (not necessarily our own customers) courses comprising eight sessions for farmers. the courses are delivered by both company representatives and guest lecturers. our objective is to share our knowledge with the farmers so that they will view us as a professional home for any questions that may arise in the field.
our strategic emphases are highly developed professional know how, international deployment, together with a broad and innovative product range.
the gat fertilizer professional team seeks to helps farmers in all matters, for example by tailoring sustainable fertilization programmes, holding professional conferences for meeting the farmers and providing them with solutions for the difficulties they encounter in the field.
gat fertilizer provides professional support and holds international seminars for farmers in the markets at which we are present. our main export markets are africa, east asia and the mediterranean basin.