Agriculture knowledge
Reduction in the use of pesticides and insecticides on Fruit and Vegetables
The Ministry of Agriculture is committed to preserving the public's health and will continue to act to reduce to the minimum the use of organic phosphates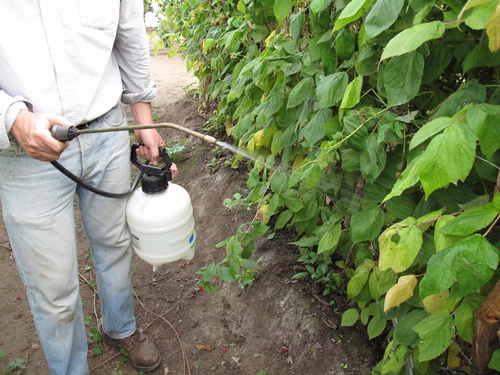 Over the past years the Ministry of Agriculture and Rural Development has been working to minimize the use pesticides and insecticides in general and to stop the use of all "older generation" substances. With this in mind, the Ministry has started a very real revolution (revision) that will end with the banning of all pesticides and insecticides containing organic phosphates, triazines and hydrocarbon chlorides in vegetables and fruit and the production healthier fruit and vegetables that are free of pesticides and insecticides for use by the consumer.
The revision will take place in two stages and each stage will be implemented in two steps: the first step was completed recently with a reduction in the use of the aforementioned materials which can only be used in clearly defined "critical" situations in order to find a suitable solution for the control and removal of pests. The second step that will reach completion at the beginning of next year (March 2014) will ban the use of any of these materials. This involves some 16 active agents that make up 46 commercial preparations. When their use is banned, some 285 residual materials that were allowed up until this date will be annulled.
The second stage of the process includes 9 active agents that are found in 26 commercial organic phosphate preparations that are still authorized for use in Europe and which Israel is working to have removed from use. This stage will be completed during 2014. When their use is banned, 120 residual materials that were allowed up until this date will be annulled. So the process of removing a long line of "old generation" preparations approved for use in vegetative products will end.
As part of its policy to reduce the use of pesticides and insecticides, the Ministry of Agriculture encourages the use of "soft" substances that are both environmentally and human friendly. The Ministry also encourages the use of techniques that allow for biological pest control and environmentally friendly methods that do not use pesticides and insecticides. This includes: the use of insects effective in the war against harmful insects, distribution of traps for the mass capture of pests and the distribution of sterile flies to control fruit and olive flies. Additionally, the Ministry also provides support with special grants for farmers making the move to biological pest control.