Summit follows the launch of a bold APV Master Pilot Plan by Israel's Ministries of Energy and Agriculture, further solidifying Israel's leadership in the Agri-Voltaic field.
The MIGAL Galilee Research Institute (MIGAL), a regional mega-R&D center supported by Israel's Ministry of Science and Technology, will hold the second annual SunnySide APV Summit on March 1-2, 2023 in the Upper Galilee.
The conference is the joint effort of MIGAL and Germany's Fraunhofer Society applied research organization, and is also sponsored by Israel's Ministries of Energy, Agriculture, Economy and Science, Germany's Ministry of Energy, the Israeli National Academy of Sciences, and the Israeli President's Climate Forum.
The Summit's panels will bring together governmental representatives, researchers, technology companies and entrepreneurs from both Germany and Israel to discuss the technology's latest developments and potential use cases, and to launch joint projects.
APV, or Agri-Photovoltaics, are technologies that enable agricultural land to be used simultaneously for growing crops and generating solar power. Recent studies assert that installation of APV plants on just 1% of the world's arable land could fill world needs for electricity. In addition, for countries like Israel in which an over-abundance of sunshine causes billions of shekels of damage each year to crop quality and quantity, the implementation of Agri-Voltaic technologies promises to improve agricultural yields and to reduce irrigation needs.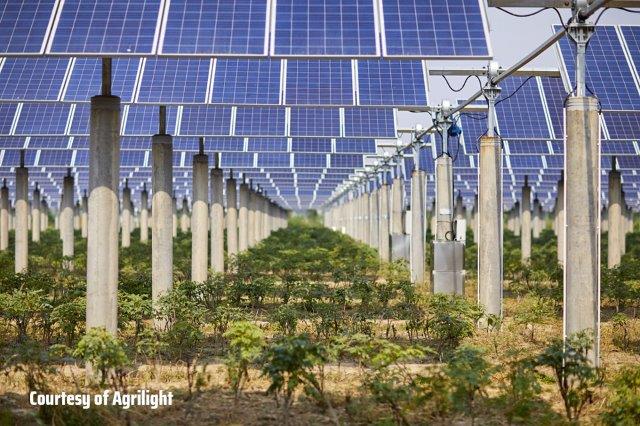 The Summit follows approval of an APV master plan by Israel's Ministries of Energy and Agriculture, which authorizes the establishment of ~130 agri-voltaic pilots on ~50 sites throughout Israel.
The pilots will test the technology's impact on the growth of a variety of crops using a range of different solar technologies, and will also test their suitability for a variety of climate zones. The MIGAL Galilee Research Institute is expediting the actualization of these pilots by promoting partnerships between energy companies, entrepreneurs, growers and farms. The results of these experiments are expected to establish Israel even more clearly as the Agri-Voltaic field's leading innovator.
A central activity at the Summit will be the first meeting of the Israel-Germany Energy Working Committee, a collaboration established at last November's UN Climate Change Conference. Representatives of the Israeli and German Energy Ministries, Israel's MIGAL and Germany's Fraunhofer will discuss potential scenarios for integrating agriculture and solar energy production, as well as ways in which the technology can be used to maximize energy efficiency, security and sustainability. Through the cooperation, Israeli developers will gain from Germany's renewable energy expertise, and will share their research and know-how regarding advanced agricultural techniques.
A prototype of an agro-voltaic system with a spectral separation
Commenting on the Summit, Mr. Ofir Akunis, Israel's Minister of Innovation, Science and Technology, said: "This is an exciting time for Israeli agricultural technology – and it is hard to overstate the role that MIGAL is playing in pushing the field forward. Its groundbreaking research in renewable technologies like APV, together with the relationships it has established with strategic international partners, is having a marked positive effect on Israel's own economy, while also helping other countries that are also struggling with agricultural, energy and climate challenges."
The conference will be attended by policy makers and strategists from government ministries and authorities throughout the world as well as international energy companies, researchers, entrepreneurs and farmers. The Summit's program will include formal presentations about APV research, technologies and pilots/ventures. Round-table discussions will be held with the participation of President's Climate Forum to discuss the main challenges facing APV adoption in Israel, with the aim of achieving significant progress already this year.
The Galilee Research Institute – MIGAL – which is sponsoring the international conference, has established a research and knowledge center in the field of APV to serve farmers, landowners, energy and technology companies, entrepreneurs and authorities.
The SunnySide APV SUMMIT 2023 will be held on March 1-2, 2023 at the Galileon Hotel, Upper-Galilee.