Precision Irrigation
Israeli Tech Startup Brings Water Savings
AgroWebLab™ has just completed a field test on corn, proving a 25% savings in water using its solution. Interview with Founder & CEO Zohar Ben Ner.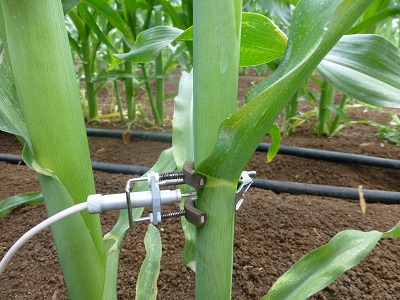 zohar ben ner has 30 years of agritech business under his belt, including co-founding kaiima, an israeli genetics and breeding company, and an agritech success story, which raised over $80m in funding.
over the past few years ben ner has dedicated himself to agroweblab™, which develops an online platform and smartphone application for collecting real-time sensor data on a farm and providing continuous actionable feedback to the farmer. "basically what our product does it provide online information on the plants, through sensors that are placed directly on the plant," explains ben ner. but the company takes things one step further, and is able to automatically manage the water supply, and change quantities according to the information coming in from the sensors.
agroweblab™ has just completed a rigorous, controlled test of the product, on corn. the test, which included six replications, a control group and supervision by the the region's leading agronomist, showed a savings of 25% in water for the plants using the agroweblab™ solution, specifically its control algorithms."this is a real breakthrough," says ben ner."this validation will strengthen our value proposition in the international market, especially with the water crisis many agricultural areas today face."
agroweblab™ is already selling in china, the u.s. and spain and is preparing to intensify its marketing and sales activities. the company has 17 employees, and its main competitors are a few other israeli companies such as autoagronom . given israel's hi-tech strength and strong water technology sector, it's not surprising that the leading companies developing solutions that use the internet and the cloud to provide better water management technologies, are emerging from israel.