Precision Agriculture
Israeli Papaya Wins the Innovation Award
Fruit Logistica 2015 Awarded Innovation Prize to Seedless Aurora Papaya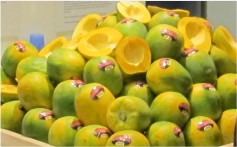 "Aurora Seedless Papaya" was chosen by the trade visitors at Fruit Logistica in Berlin as the winner for the Fruit Logistica Innovation Award 2015. This papays is produced by Aviv Flowers Packing House Ltd. in Israel. This unique papaya is characterized by its delicate fragrance and firm, full-flavoured pulp and remarkable fact of being completely seedless. The fruit maintains its excellent consistency for a long time, even after it is sliced. The Aurora Papaya is the product of crossing different varieties and natural selection. Target markets include Canada, the European Union, and Switzerland. The weight of the fruit ranges from 200 to 1000 grams.
Or Amos, Marketing Manager for Aviv Flowers Packing House Ltd. Explained: "We are pleased and very thankful that Asaf Adizoar spent ten long years patiently developing this wonderfully tasty, seedless papaya. We are planning to do everything we can to promote the Aurora Papaya and sell it on global markets".
Trade professionals at Fruit Logistica chose the "Lemoncherry" tomato for the second place FLIA prize. This yellow, sweet-tasting cherry vine tomato features a distinctive, lemony aroma was developed by BelOrta, a growers' co-operative based in Belgium. Third place honors went to the "DIY Fresh Packs" produced by the Netherlands-based Bakker Barendrecht. These products are designed for consumers who want to use fresh ingredients to prepare a soup, full meal, or side dish for four people.