Water Management
Israeli irrigation controller wins the Europen Irrigation Awards
The Israeli company Galcon manufacture smart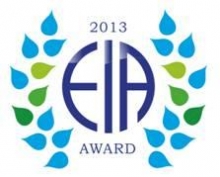 The EIA (Europen Irrigation Association) has awarded israeli company – Galcon, new GSI product, the Best of The Year award for the Landscape category.

The GSI is a new web based irrigation line of product, delivering simple and easy to use online cloud based irrigation management application, which is available anywhere and anytime.

The GSI uses a two-way GPRS cellular communication, operating flow management and alarm system.

The GSI uses unique Over The Air (OTA) technology to ensure automatic firmware upgrades.

The GSI is first to introduce to the irrigation market a low cost battery operated, web based control.

Galcon is a leading manufacturer of smart monitoring and control irrigation solutions for residential, Turf & Landscape and agriculture.