Agriculture Cooperation
Israel National Water Company To Inaugurates Romanian Purification Plant
'Mekorot' has built the €10 million plant to purify wastewater in the city of Roman.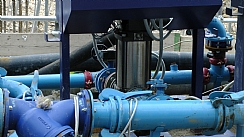 last week, the mekorot national water company inaugurated a new wastewater treatment plant in roman, romania, which purifies wastewater from surrounding urban and rural areas.
the plant's upgrade and expansion had been realized by mekorot's subsidiary, mekorot development and enterprise ltd., and included the construction of new wastewater treatment facilities and replacement of all electro-mechanical equipment, as well as project management and supervision vis-à-vis local contractors and european equipment suppliers. the entire upgrade and expansion had been undertaken without terminating the existing facility's routine operation and was completed in only 18 months. the project is valued at about €10 million.
mekorot development and enterprise ltd. entered this project in the middle, replacing an international german company. in cooperation with a local engineering firm, mekorot managed to complete the project in a short span of time.
for the full article by globes click here !