Precision Agriculture
InjectRite – Tefen's Peristaltic Pump for Poultry and PIgsty Houses
Precision agriculture in livestock breeding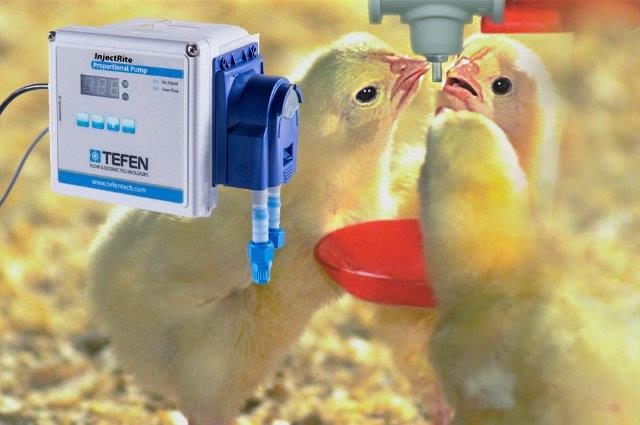 Livestock breeding is one of the most ancient agricultural practices in human culture. As world population has expanded in recent years, food consumption has increased, requiring greater food production, including livestock.

As always, Tefen strives to introduce innovations into livestock breeding of chickens and pigs, and has been closely acquainted with breeders' needs for many years.
Tefen's professionals understood that with regard to feeding animals, the key is efficiency and precision, and have therefore translated this insight into dedicated products that provide farmers with higher quality produce, thus increasing profits.

Livestock in poultry and hog houses receive medication, nutrient additives and vitamins via a water system whose essential component is a proportional dosing pump. The proportional dosing pump provides the farmer with precise information regarding all doses of medication, additives and vitamins added to the water, and which have passed through the system at any given moment.
Tefen realizes that the company's clients are accustomed to high-quality products, and therefore have recently launched an electric peristaltic pump for poultry and hog houses – InjectRite.
This is a new model that has proved itself in complex applications. Unlike other pumps on the market, Tefen's newest model is proportional, enabling highly precise dosing with a wide range of required doses.

Furthermore, the pump's main feature is its ability to report to the controller by identifying the flow of material through it. In other words, the breeder doesn't need to sit next to the system in order to know whether food or additives have reached the livestock; if there is a problem, the pump will know how to identify it as the material is moved through and to warn about it through the system's internal controller. Thus, the breeder will identify problem at an early stage, will go to the site, check the source of the problem, and prevent possible damage during the care and feeding process of the livestock.

One of the main system's parts is the pump's feed tube. In Tefen's pump this tube is made of Santoprene. Testing of the system has proved that by comparison with tubes made from other materials, this tube is highly resistant to aggressive materials and to wear, both of which are essential characteristics for ongoing action during a total incubation, leading to the best results required for breeders.
As noted, this pump is very precise, easy to operate and maintain, economical. It is designed to serve high scale breeders as well as family-owned farms. It is calibrated for use in liters and gallons, so it can serve the American market as well.
The pump has been tested for long periods of time, and was found to function well without changing tube throughout several incubations, meaning that it provides time & cost efficiency..
Chaim Schwartz, Tefen's Marketing and Sales Manager, adds that even though this is an improved model of a pump that has long been known on the market, the extensive resources invested in its improvement and upgrading have not resulted in a price increase. Thus, this pump is being sold successfully in Israel and abroad to serve poultry houses and pig pens. In some places in the world it also serves in rabbit farms.
Tefen's hydraulic pump product line sold successfully for many years worldwide, and permits maximal adaptation to customers' requirements.
Like the rest of Tefen's products, this is a reliable, simple to operate, sturdy and cost-efficient pump. The results enjoyed by Tefen's customers from its use attest to that.
For more info. please contact us at: info@tefentech.com