Agriculture knowledge
HAIFA Chemicals launched a corporate Facebook page
The Facebook page will complement Haifa's website with its extensive knowledge center and the social network of growers, agronomists and consultants it supports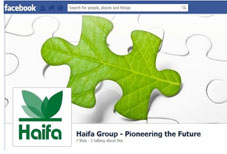 The corporate Facebook page extends the interactive activity in Haifa website and marks another step in Haifa's multi-phase on-line activities plan
HAIFA Chemicals, a global supplier of potassium nitrate for agriculture and industry, specialty plant nutrients and food phosphat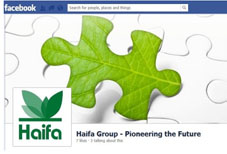 es announced today the launch of its Corporate Facebook page. The Facebook page will complement Haifa's website with its extensive knowledge center and the social network of growers, agronomists and consultants it supports.
The official Facebook page will serve as an agri info curator, publishing professional contents related to plant nutrition from Haifa's website, as well as insightful content from other global sources.
The page will also inform about exhibitions, seminars, and other marketing activities. It will expose broader circles of agri stakeholder – even those who are not community members – to Haifa's knowledge, and enable them to participate in Haifa's on-line conversations.
"The Facebook page is an integral part of our marketing vision. After a year of successful activity in Haifa's interactive website and our YouTube channel, we are now ready to extend our on-line activities with the agri community. It is our way of making it easier for our users to communicate with us and with each other, receive and share knowledge that will help their business", said Mr. Natan Feldman, Haifa's Vice President Sales and Marketing.